The concept of beauty depends largely on the culture in which you were raised, and evolution. But we each still perceive it differently than others, and we each provide our own definitions of t.
That said, beauty is still usually associated with one's physical attributes, and people are constantly focusing on the exquisiteness of the fleshly form of people.
Nowadays, people are becoming more aware of their physique, and they tend to utilize different products in order to feel beautiful and satisfied with their body.
Home-Use IPL and Laser Hair Removal Device FAQs
What is covered in this post? 
Achieving the daintiness that one longs for can boost their confidence and morale; thus, the reason why people are now more conscious with their physical appearance. But with all the various devices available in the market, these questions kept on lingering in my mind.
Do all these products deliver the quality results they claim? Are all these devices effective?
Home-use Intense Pulsed Light (IPL) and laser hair removal devices are amongst the thousands of aesthetic devices commonly used by the market. These gadgets are highly marketable today due to their claimed results, cost, and user-friendly features.
Compared to spa and dermatologist clinics, these home hair removal devices are much cheaper and far more convenient, since you don't need to set aside an afternoon to travel out of your way to get the treatments.
The goal of this article is to discuss various facts about these home-use light-based hair removal devices.
Do home-use IPL and laser hair removal devices really work?
Short answer, yes. For a slightly longer answer, several studies were conducted reviewing the efficacy and efficiency of these home-use light-based hair removal devices.
One of the studies had 22 female patients who participated in the clinical test, out of which 20 completed the trial. The participants belonged to different age groups with Fitzpatrick skin type I-IV.
Of the 20 contributors who finished the medical trial, 19 (95%) of the subjects found a significant hair reduction of 78% during the trial sessions, which took place over a period of 1 month, and a total of 2 treatments. Six more treatments were accomplished by 15 patients for a period of 3 months which resulted in 81-90% of significant hair reduction. All participants went through one and three month supplemental treatments [1].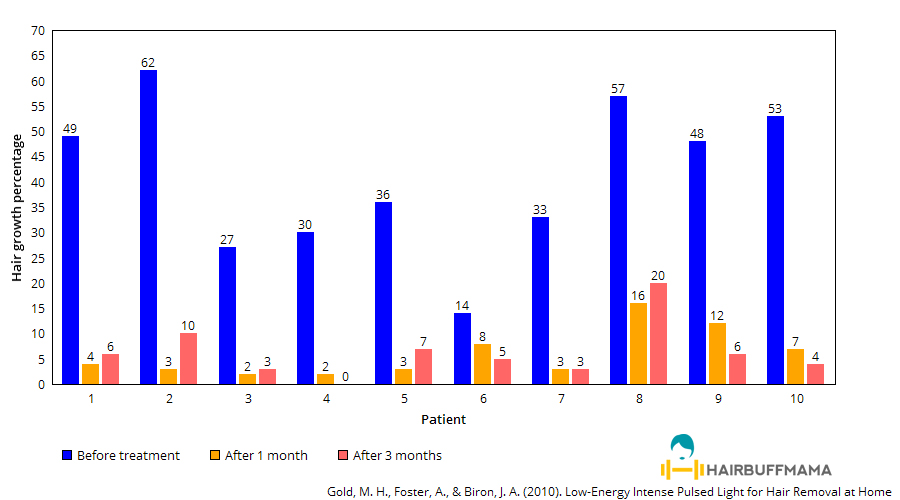 Laser hair removal has quickly become one of the most popular forms of hair removal for a number of reasons. It offers a much more effective and convenient method of taking care of unwanted hair in areas where we don't normally want to take the time to shave regularly or use other methods to achieve smooth skin.
Laser hair removal is proven to be much more effective when it comes to removing unwanted hair over the course of a few weeks or months, especially when compared to shaving.
How Does Laser Hair Removal Work?
Laser hair removal is a method that was developed decades ago by scientists as a means to help people get rid of unwanted hair and keep their skin silky smooth without having to deal with the usual headaches that come with the process of shaving, or using various other methods like waxing.
There are a number of different laser hair removal devices available on the market, but most of them work in the same way to get rid of hair deep below the skin's surface.
Each laser hair removal device uses a series of laser pulses that are directed into the skin through the device. These pulses work well beneath the skin's surface to blunt and destroy the hair follicle at a level that allows you to maintain smooth skin without the potential for hair to grow back as long as you continue to use the device.
The process that the laser hair removal device works is known as photothermolysis, which basically means that the device effectively burns the hair follicle while it's in use.
This is all done in a very safe and effective manner, which is why spas and dermatologists have been using laser hair removal devices for a number of years without any issues.
Where Can I Use My Laser Hair Removal Device?
You can basically use your laser hair removal device on virtually any area of your body that you feel comfortable with.
In the article, Hair Removal with A Novel, Low Fluence, Home-use Intense Pulsed Light Device[5]; a review was done on a home IPL treatment provided on different body parts. It was stated in the study that full body and facial areas below the chin can be treated. That includes the axilla, arms, upper and lower legs, bikini area, chin, upper lip and other problem spots.
Most laser hair removal devices work in the same fashion and one needs only to use their device and follow the instructions in order to effectively employ its hair removal ability on any part of their skin that they feel comfortable using it on.
Men are also finding that laser hair removal devices work exceptionally well on those areas that they might normally shave such as their chest and back.
Males can also benefit the device for use on chest, stomach, back hair. It doesn't work on the beard, however. Any body parts covered with hair are potential areas for IPL hair removal treatment as long as the device is operated properly, and safety precautions are followed.
Will I See Results After the First Use?
Yes! Most users will be pleased to learn that they will certainly see a big difference after their first use of their laser hair removal product. Although most brands don't guarantee this, you can expect to see some level of effects depending on the quality and power of your laser hair removal device.
It's important to keep in mind that these devices are not designed to be a "one-and-done" deal and will require that you use it regularly in order to achieve the permanent results you're looking for.
After using your laser hair removal device for a few months, you'll be able to notice a drastic difference in the overall amount of hair you have—or don't have—in certain areas. Be sure to follow the directions on your device as closely as possible in order to get the best results.
Are the Laser Hair Removal Results Permanent?
The answer to this question can be yes if you are willing to continue using your laser hair removal device regularly! Most devices work in a way that directs users to employ their device on the skin areas where they want to permanently remove hair for a certain number of times in the first few months that they use the product.
After the laser hair removal device has been in use for a few weeks, most brands or companies will direct their customers to taper down their use of the device to only a few times per month before finally reaching the point where the device only needs to be used sparingly once a month or so.
This is all possible because most laser hair removal devices work by blunting the hair follicle deep below the skin in a way that becomes more and more effective with each use.
Does Laser and IPL Hair Removal Hurt?
This is one of the most common questions related to laser hair removal devices and understandably so. You don't need to worry, though as most laser hair removal devices are virtually pain-free, meaning you won't have to worry about any more than a slight heating sensation in the area that you're using your device on.
This sensation will go away after a few minutes, leaving the treated area with a slight redness that will also be reduced after a short amount of time.
How Much Does Laser Hair Removal Cost?
Depending on whether you are going to be doing your treatments at home or professionally at a skin care office.  If you are doing at home hair removal, you can find laser hair removal devices as cheap as $100 ranging to a more expensive device around $500.
If you are planning on getting your hair removal done for you professionally, prices range greatly.  This laser clinic charges just under $500 a month for a full body treatment, while others (depending on where you live and what you want treated) can see prices of $100 to $300 for a single treatment.
As you can see, if you are looking for affordable laser hair treatment, an at-home device will greatly reduce your cost.  However, if you do it professionally you don't actually have to do the treatment yourself.
There's tradeoffs for both of them.  It comes down to what you are looking for.
Where to Buy Laser Hair Removal Devices and IPLs?
Obviously, one of the easiest places to find laser hair removers is on amazon.  Most brands feature their products on there for simplicities sake.  But you can also find many products on Walmart, or the brand's website.
Are these home-use light-based hair removal devices safe?
Yes, they're quite safe. According to authors Woo, E. and Virani, J. of Safety Tips for Intense Pulsed Light Therapy[2], they specified that home-use IPL devices are safe to use when users adhere to the proper usage and maintenance of the device as stipulated by the manufacturer that are FDA cleared.
Several reports of adverse reactions such as burns, blisters, scars and skin hyper-pigmentation were reported to the FDA, but these are all mainly caused by people not complying with the device's user manual, or due to improper maintenance of the device. Strict compliance to the guidelines of proper usage and maintenance is an absolute must, as IPL technology is designed for surgical, aesthetic, and cosmetic uses.
In the article, Current Trends in Intense Pulsed Light, by Dr. David J. Goldberg[3], he talks about how Intense Pulsed Light technology has managed to cut a path into a significant role in the medical society since it was presented to the public about two decades ago.
Since then, issues concerning its effectiveness and safety began circulating. Due to these concerns, several studies were done to measure its efficiency and safety features. Thankfully, these studies showed IPL technology to be an incredibly useful, safe, and effective tool.
IPL Mechanism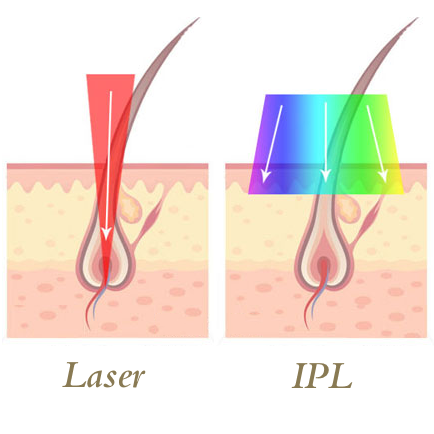 Flash lamps, computer-controlled power provisions, and band pass filters are utilized by the IPL devices in order to produce pounds of light. The flashes of light emitted depends on the specified length, strength, and spectral distribution of the treatment.
The light energy emanated is then converted into heat energy, which is used to treat various skin conditions such as sun-damaged skin, cutaneous lesions, age spots, benign pigmented epidermal lesions and vascular lesions. This is the same technology widely patronized for hair growth elimination.
The IPL treatment is a noninvasive and non-abrasive method which operates with several wavelengths or spectrum of light and is designed to only affect the upper dermis layer, without any effect on the epidermis.
On the other hand, lasers use a long wavelength, making it more threatening to the skin. So IPL is generally considered the safer method of the two for hair removal treatments.
With all the discussed facts about home IPL hair removal devices, we can conclude that it is safe for use as long as the person who uses it strictly adheres to the guidelines provided by the manufacturer for each product. Compliance on skin care prior, during, and after each treatment session is needed to prevent any side-effects or injuries.
Proper maintenance on the device is also advised. Be on the look-out for any unfortunate signs or symptoms of adverse reactions, if any of these side effects occur, immediately stop the treatment as to not make the problem worse, and, depending on the severity of the reaction, seek medical treatment.
The user should always consult a doctor before shifting to home hair removal treatment, especially those with underlying medical conditions.
The safety of the consumer is always the top priority for every treatment. Therefore, stringent following the guidelines and protocols need to be reiterated so as to achieve a quality outcome with minimal side effects. The key to an effective and safe IPL home hair removal treatment is being keen on what you are doing.
Home light-based or IPLs are indeed safe for use, and they could truly provide the results the manufacturers have promised to the consumers. This is being strengthened by several research studies done. Professional hair removal treatment using IPL technology is not cheap, hence why people are opting into using home devices which provide the same quality of outcome, but at a far more reasonable price than those sessions done in spas and clinics.
Braun IPL Hair Removal Silk Expert Pro 3
Braun is one of the most popular hair reduction brands in the industry for their 100-day guarantee and effective IPLs. The Expert Pro 3 is a compact device that has smart skin sensors and can treat legs in just 9 minutes.
Check Latest Amazon Price
We may earn a commission if you click this link and make a purchase at no additional cost to you.
Which skin types can be treated?
The effectiveness of IPL treatments mainly depends on the skin type of the consumer. People with Fitzpatrick skin type I, II, and III are the best recipient of the treatment as they provide a good contrast between the skin complexion and the hairs. But since these home-use IPL and laser devices only provide a low energy level output, people with Fitzpatrick skin type IV can also use these home-use light-based devices, but they should be used at the lowest setting. The darker the hairs are the better outcome is expected.
Fitzpatrick Skin Type
Skin Tone
Race
Description
I
Very pale or very light
Northern European, British
always burns, never tans
II
White or fair
European, Scandivanian
usually burns, tans minimally
III
Medium to light brown
Southern European, Central European
sometimes mild burn, tans uniformly
IV
Moderate brown or olive
Mediterranean, Asian, Latino
burns minimally, always tans well
Source: Wikipedia, Fitzpatrick scale
Can white or lighter hair color be treated?
Home laser or light-based hair removal devices are not effective on white, blond, gray and reddish colored hairs. These devices can only be of great benefit on dark hairs that could easily be of detected against light to fair colored skins.
| Hair Color | Suitable to Use |
| --- | --- |
| Black | Yes |
| Dark Brown | Yes |
| Brown | Yes |
| Dark Blonde | Yes |
| Light Blonde | No |
| Red / Auburn | No |
| White | No |
| Grey | No |
For Fitzpatrick Skin Type (FST) V or VI, what kind of home-use IPL device can be used? What features does it have to make it safe for darker skin tones?
Consumers with Fitzpatrick skin types V and VI, or those who have even darker skin complexions can still use the IPL treatments, provided that they use an IPL device with elos technology. These are the type of light-based systems that utilize the combined Intense Pulsed Light (IPL) and Radio Frequency (RF) energies. These technologies were clinically proven to provide effective, painless and safe permanent hair elimination to all skin types and hair colors.
Fitzpatrick Skin Type
Skin Tone
Race
Description
V
Brown to dark brown
East Indian, African, Native American
very rarely burns, tans very easily
VI
Very dark brown to black
African Aboriginal
never burns, never tans
Source: Wikipedia, Fitzpatrick scale
A study titled Laser and Light Treatments for Hair Reduction in Fitzpatrick Skin Types V and VI: A Comprehensive Review of the Literature, by Fayne, R.A., et.al.,[5] concerning patients with Fitzpatrick skin type V and VI was conducted. Women with hirsutism – those with male pattern facial and body hairs – are the common consumers who undergo the hair removal treatments.
With the help of IPL technology, a significant reduction in the hair growth was seen but this method is most likely achieved by consumers with Fitzpatrick skin types I, II, and III. Those patients with darker complexion or belonging to Fitzpatrick skin types IV, V, and VI are at a high risk in experiencing adverse effects, as the increased melanin content of their skin interferes with the light projected by the laser therapy photothermolysis.
Photothermolysis is a procedure that perpetually rescinds the hair bulge stem cells by affecting the melanin in the hair follicle. The possible adverse reactions that can be felt by people with FST IV to VI are blisters, scarring, and skin discoloration.
What was discovered during this study was that the key for treating patients belonging to the FST IV to VI is to provide them with longer wavelengths at lower fluence levels.
Through longer light wavelengths, safer hair reduction and insignificant side effects are expected from the patients. As a result, in addition to proper usage of the device, the energy level, and wavelength settings are the key to attaining a safe hair removal treatment for darker complexioned consumers.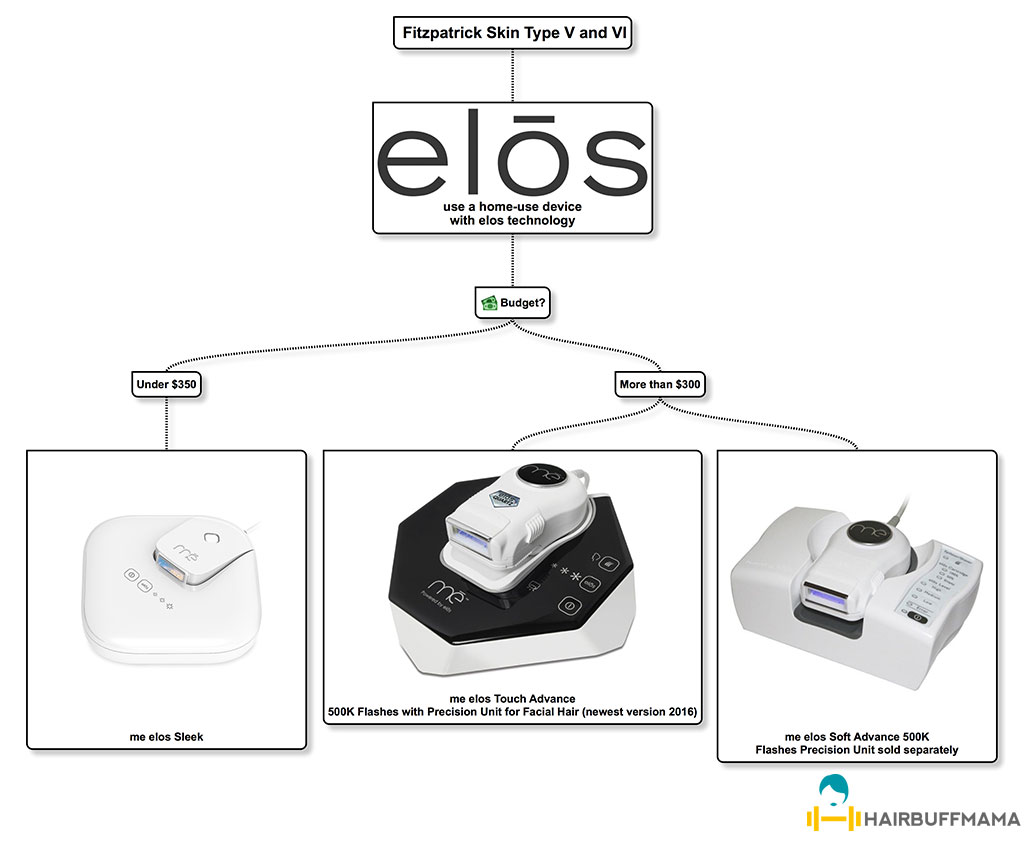 mē Smooth Hair Reduction Device
This is one of the most popular budget hair removal devices on the market...
Pros:
Budget friendly
FDA approved and safe
Works with all skin colors
Ease of use
Cons:
Less effective than elite IPLs
Check Latest Price
We may earn a commission if you click this link and make a purchase at no additional cost to you.
How many treatments are needed to achieve the long-term hair reduction result?
For users with Fitzpatrick skin type I, II, or III, in achieving a lasting effect, the IPL device must be used for an average of 4 to 8 treatment sessions. Treatment session should be done every 4 to 6 weeks, depending on the body area and hair growth stage cycle.
However, for those with dark skin complexions with skin type IV, V, and V that use IPL device with elos technology, minimum of 8 treatment sessions is needed. Follow-up maintenance may be needed depending on the hair growth. The hair recurrence varies among the users depending on their race, genes, and hormones. Thus, treatments sessions are mainly influenced by the person's body. This can be measured within 6, 9 and 12 months duration.
How often can I use my home IPL device?
Depending on the body part, expert dermatologists recommend using the home IPL device once every 4 to 6 weeks in order to catch the new hair that is starting to return in its growth cycle. For legs, it is once every 8 to 12 weeks as the hair growth rate on this body part is much slower.
Can it be used for pregnant or nursing moms?
As IPL treatments seem to be good to all users, pregnant women are highly discouraged to use the hair removal devices since their hormones are in ecstatic phase. Expectant moms are not allowed to undergo hair removal sessions until after the child is born, their hormones are in its normal status, and/or when their monthly menstrual period is back (an indicator of normal hormones).
It must also be avoided while breastfeeding because of the hormonal instability. The reasons behind this are that hormones highly regulates hair growth and skin pigmentation of pregnant women thus, the treatments may not be efficient as hormonal disparity is present.
Can it be used for tattooed skin?
Another limitation of these home-use light-based hair removal devices is for those with tattoos. IPL hair removal devices can work on lightly pigmented tattoos, but the problem is that the device emits light that can be absorbed by the tattooed skin; hence, may interfere with the tattoo ink and cause skin reactions on the affected area. Side effects such as pain and color fading may occur. Therefore, it is not advised to use a home IPL hair removal device on tattoo pigmented skins.
Why should patch tests be carried out and how?
Since home IPL hair removal is a contact treatment, it is just necessary that tests must be done to ensure that the skin is compatible with the management and in order to control the possible effects of the treatment on the skin. This test is needed in order to ensure the safety from adverse reactions with the treatment method.
A test patch is done on a small part of the treatment area, or an area similar to the treatment area with the same skin and hair type. It is recommended that every time patch testing is done to start from the lowest energy level and evaluate the testing area. Increase the energy level gradually until you feel a heat or mild discomfort, which differs according to each customer's pain tolerance. It is normal for you to feel a slight pain or a stinging sensation, like a ping of a rubber band. Monitor the test patch area for any adverse effects. Discontinue the treatment once the presence of any adverse reaction is observed.
Are there any side effects? What are the common and serious side effects?
In every treatment, adverse reactions are always something to watch out for. With regards to the home IPL, pain is the most common side effect. Since IPL technology emits light and converts this energy into heat, a mild discomfort can be felt as the device contacts the area to be treated. On the other hand, more serious reactions must be considered[6].
Impending adverse reactions include the following:
edema
erythema
hyper and hypopigmentation
scarring
blistering
crusting
burning sensation and,
paradoxical hair growth
We also have an article on hairbuffmama about the side effects of laser and IPL hair removal here.
Popular Option
Tria Beauty Hair Removal Laser 4X
The Tria 4X Beauty laser is one of the most effective hair removal lasers on the market. While it isn't the cheapest laser, it's highly crafted and removes hair quickly.
Check Latest Amazon Price
We may earn a commission if you click this link and make a purchase at no additional cost to you.
Does the treatment hurt? Can cooling gels be used?
Again, yes, and depending on one's pain threshold. Any IPL treatment can cause a mild discomfort in the area being treated. One can feel a slightly warm, heat sensation or like a rubber band snapping on the skin. This is a normal occurrence during each shot of light emitted from the device. A startling zap from the device means that it working effectively in destroying the hair bulb.
The use of cooling gel packs is needed for darker skin types to pacify and guard the skin before and after the treatment. This is needed as darker complexion retain the heat longer. Skins with more concentrated hair may feel extra discomfort due to high melanin level present in the area. Extra care must be exerted on sensitive parts as well as the bony areas as these are more subtle to pain.
Cooling gels are used to provide comfort on the skin areas being treated. These gels are also utilized as an aid for light to convey through the rough stratum corneum.
Around 2/3mm of this colorless gel is cooled at about +4 degree Celcius (do not freeze) and then lay it on the skin that would be treated. The gel provides the user a good view of the treated area as well as the untreated part; thus, intersecting of protected and unprotected skin is avoided. Don't reuse the gel (i.e. wipe the gel after use and reapply in another location), and don't overextend the gel (apply too thin), as it can warm up.
What are some pre and post-treatment skin care which should be performed?
Since IPL hair removal treatment is dealing with skin, you should ensure you have sufficient knowledge of proper skin care pre and post-treatment.
Pre-treatments. Days prior to the treatment, direct exposure to sunlight must be avoided. Therefore, you should protect the skin by wearing long sleeves or applying a generous amount of sunscreen, preferably with SPF 30+. However, if the IPL treatment is within 24 hours, do not use any lotions or sunscreens. Fake tans and solarium should be avoided too.
Other pre-treatment skin care are:
Shaving 12 hours beforehand is advised. Superficial hair is not needed for the IPL hair removal treatment.
Waxing, epilating, or plucking for about a month or week before the scheduled session is not allowed because it can reduce the efficiency of the treatment. You want to hit the roots
Ensure that your skin is free from any cosmetics, lotions, deodorants, creams or the likes is a must.
Avoid microdermabrasion, exfoliating, or use of chemical peeling before the treatment.
Wearing loose and comfortable clothes during the treatment schedule is highly recommended as this could bare the spot to be treated easily while giving the treated skin area a minimal contact after the management.
After following all the precautionary measures for the skin prior to the treatment, the skin is now good to undergo the hair removal therapy.
Post-treatments. Once the treatment ends, continuous skin care must still be maintained. Waxing and plucking the treated area must be highly avoided as these could mess up the treatment and could lead to possible stimulation and regrowth of the hair follicle. The treated area can only be exfoliated once redness dwindles. This could be done in about one to two weeks post hair removal.
Other post-treatment skin care are:
For the next 48 hours, hot shower baths or soaking must be avoided.
Vitamin E should be applied to calm the skin especially when discoloration or pigmentation happens.
For two to four weeks, avoid tanning and having direct contact with the sunlight.
Only mineral makeups are allowed to be applied on the skin for 48 hours after the treatment. Other cosmetics are discouraged until the skin is healed.
Deodorants must also be used at a minimum to prevent irritation.
To avoid scarring which may be a result in a scab, it is important to remember that scratching is highly discouraged.
Avoid extreme exercises for the next 24 to 48 hours post-treatment in order to avoid irritation from the sweating.
Tight clothing must be avoided.
Following all the skin care protective measures even after the treatment is necessary as these would promote fast healing of the skin and maintain the efficiency and effectiveness of the hair removal program.
#1 Most Popular IPL
Philips Lumea Advanced IPL
The Philips Lumea Advanced IPL is no doubt one of the most popular IPLs amongst its peers. It removes hair in up to 4-5 treatments and is safe to use.
Check Latest Amazon Price
We may earn a commission if you click this link and make a purchase at no additional cost to you.
Is it necessary to remove hairs between treatments? Can plucking or shaving be done?
Reiterating that waxing and plucking right after the session is discouraged. It is no longer necessary to do this as the hairs would naturally shed off 7 to 14 days after the session.
Waxing and plucking are to be avoided as these procedures only pull off the hair from the follicles rather than eliminating the source itself. So, if hair regrowth is observed between hair removal sessions, shaving is the best thing to do.
Can males use home IPL and laser hair removal devices?
Even though women are the ones who commonly utilize IPL hair removal treatment devices, this technology is also suitable for men. However, a male's hair density and thickness is different from that of a female, so the parameters for the treatment must be carefully checked. Appropriate duration and strength of the energy to be emitted must be ensured as to provide the male user with a safe and effective hair removal program.
The usual hair removal treatments done for men are the stomach, back or chest hair removal. Applying aloe vera or any calming lotion can ease the discomfort caused by the heat from the devices. Keep in mind that these devices would not work on beard.
Who are unable to undergo hair removal treatments?
Almost all can undergo home IPL hair removal treatment but there are some exceptions. Anyone who has undergone active tanning, meaning those who went through sun exposure and those who were tanned on a bed for the past 30 days are not allowed to have the IPL hair removal treatment due to high risk for hyperpigmentation occurrence.
In addition, a user with any of the following medical conditions are discouraged to undergo hair removal treatments:
Inflammatory skin conditions such as eczema.
Active Herpes Simplex at the area to be treated.
Skin cancer.
Hypopigmentation such as vitiligo.
On cancer treatments (taking cancer therapy drugs like Ducabaxine, Flurouracil, Methotrexate, etc.).
Has an history of keloid formation.
Epilepsy.
Treating depression for the past 3 months with St. John's Wort.
Patients with acne or any dermatologic conditions who used Isotretinoin (Accutane) or Tretinoin (Retin-A) for the last 3 to 6 months prior to IPL hair removal treatment.
Diabetic patients who are on anti- diabetic medications as they may be photosensitive and are poor in wound healing.
Taking anti-coagulant drugs.
On any topical medications such as hydrocortisone.
Has any surgical metal pins or plates beneath the area to be treated.
In addition to these, those who had waxing, epilating, plucking, sugaring or threading for the past 4 to 6 weeks are discouraged to have the treatment.
Customers who wears perfumes, deodorants or has applied sunblocks, essential oils or other skin lotions are prohibited from pursuing the session as these would cause photosensitivity.
Consumers under the age of 18 needs a parental permit in order for them to undergo the treatment. They are also withheld from obtaining the therapy if the establishment is not registered to treat children.
Pregnant women and lactating mothers are advised to defer the sessions until their regular menstrual periods return to normal as the hormonal imbalance may hinder the effectiveness of the program.
Those who are taking large amounts of cardiac or diuretic medicines, applying topical steroid creams on the parts to be treated, had general anesthesia for the past 3 months, had applied local anesthesia on the site to be treated in the past month, who are hypersensitive or has allergies, has hormonal imbalance issues such as PCOS and thyroid ailments, has cold sores on the treatment sites, had previous IPL treatment reactions, is reported to have HIV or hepatitis or is having any medication or has any medical condition must secure a permit from his attending physician prior to submitting to any IPL hair removal treatments and must be treated with precautionary care.
Can the device be shared to other family members?
Yes and No. Yes, if the home-use IPL hair removal device has replaceable cartridge then you can definitely share the device. A great example of a home IPL device with the replaceable cartridge is the Remington iLight (see all models here). Just make sure that each person who uses the device has his own cartridge to solely use for his own treatment.
If the device doesn't have replacement parts, unfortunately, they are recommended for a single-use person only. However, several manufacturers claimed that their device can be used by more than one person provided that it is properly sanitized. Clinicians do not encourage this claim however, it is a personal gadget thus should not be shared to others, even to family members, due to hygienic reasons. Multiple user of the device can also limit the product's efficiency.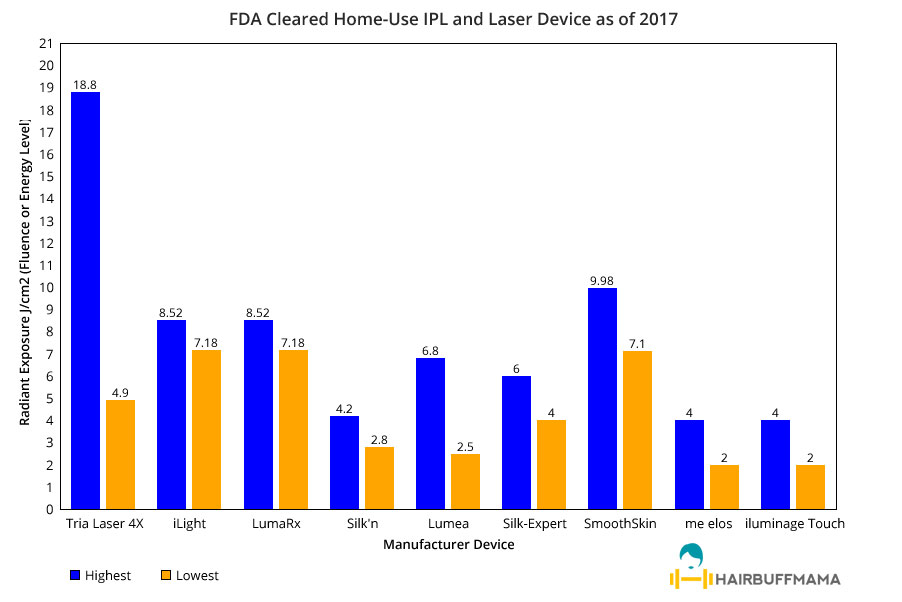 References
[1] Gold, M. H., Foster, A., & Biron, J. A. (2010). Low-Energy Intense Pulsed Light for Hair Removal at Home. The Journal of Clinical and Aesthetic Dermatology, 3(2), 48–53.
[2] Woo, E. BSN, RN, Virani, J. MS. (2012). Safety tips for intense pulsed light therapy. The Peer Reviewed Journal of Clinical Excellence: Nursing. 42 (2). 20. doi: 10.1097/01.NURSE.0000410323.84475.96. Retrieved from http://journals.lww.com/nursing/Fulltext/2012/02000/Safety_tips_for_intense_pulsed_light_therapy.7.aspx
[3] Goldberg, D. J. (2012). Current Trends in Intense Pulsed Light. The Journal of Clinical and Aesthetic Dermatology, 5(6), 45–53. Retrieved from https://www.ncbi.nlm.nih.gov/pmc/articles/PMC3390232
[4] Schmitt, L., Rezai, K. and Karsai, S. (2016). Are IPL home devices really foolproof?, Journal of European Acad Dermatol Venereol, 30 (5), 856–857. doi:10.1111/jdv.13025. Retrieved from http://onlinelibrary.wiley.com/wol1/doi/10.1111/jdv.13025/full
[5] Fayne, R.A., Perper, M., Eber, A.E. et al. Am J Clin Dermatol (2017). Retrieved from https://doi.org/10.1007/s40257-017-0316-7
[6] Schmitt, L., et. al., (2016). Retrieved from Are IPL home devices really foolproof?