There are many home-use light-based hair removal devices available on the market today. In North America, the big brands that provide home IPL hair removal systems are Remington, Tria Beauty, and Silk'n.
For those of you in Europe, the choices are Philips and SmoothSkin brands. Not to be left behind, there are also Chinese and Japanese brands, which are DEESS, Bosidin, and CosBeauty.
Now the real question is, are they all FDA cleared? That is what we are going to explore in this article.
FDA Approved vs. FDA Cleared
Many websites and blogs have been mistakenly labeling these home light-based hair removal devices to being FDA approved instead of being FDA cleared. It is best to avoid referencing on those websites as they only give you inaccurate information.
Here's the description of cleared medical devices versus approved medical devices:
Cleared medical devices: These medical devices are ones that the FDA has determined to be substantially equivalent to another legally marketed device. A premarket notification, referred to as a 510(k), must be submitted to the FDA for clearance. A 510(k) is most often submitted by the medical device manufacturer.

Approved medical devices: Approved medical devices are those devices for which FDA have approved a premarket approval (PMA) application prior to marketing. This approval process is generally reserved for high-risk medical devices and involves a more rigorous premarket review than the 510(k) pathway.

Retrieved from FDA.gov
FDA Cleared: Class II Device –> Substantially equivalent
FDA Approved: Class III Device –> Premarket approval
FDA classified these over-the-counter light-based hair removal devices as Class II, and Class II doesn't require a premarket approval application.
How to Check if a Home IPL or Laser Device is FDA Cleared
There are several ways to check whether the device is FDA cleared or not. The easiest way is by going to FDA.gov website and just type the name of the device in the search field in the upper right corner of the website.
However, this method will give you many irrelevant results. So, the instructions below will show you how to properly check if an IPL or laser hair removal device for home use is FDA cleared or not.
Step 1: Visit the FDA 510(k) Premarket Notification database website here.
Here's what you should see on your screen: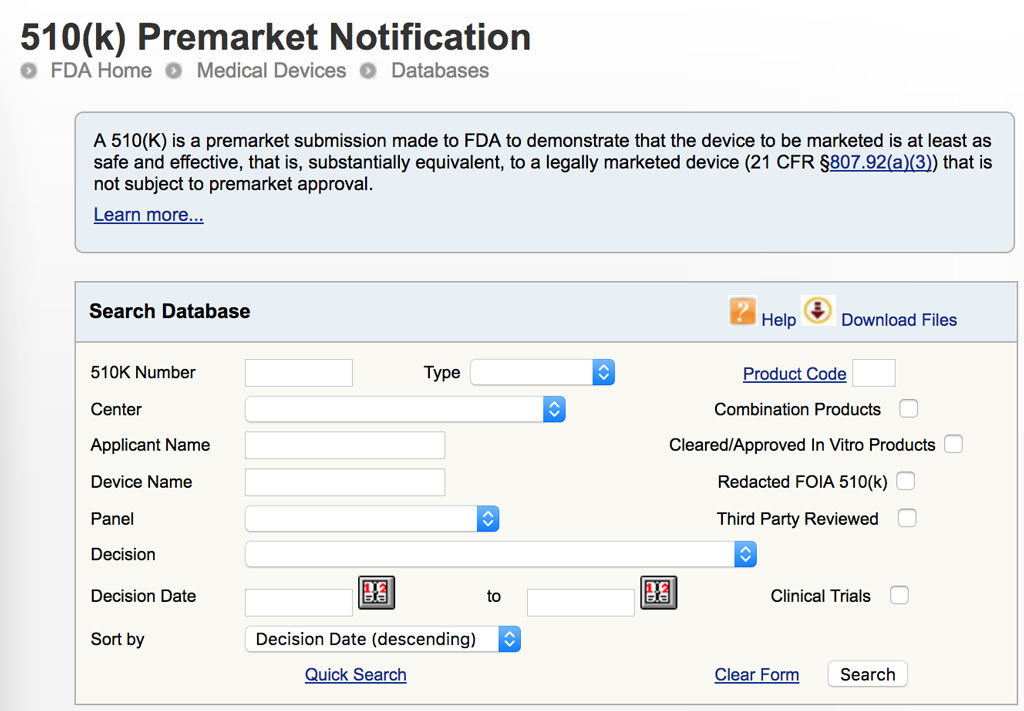 Step 2: Type the name of the device developer.
In this case, you can refer to our table at the end of this article to see which company developed the device. As an example, we want to know if Silk'n Flash&Go Home Pulsed Light (HPL) is an FDA cleared device. The company who developed Silk'n is Home Skinovations. So type in Home Skinovations in the 'Applicant Name' field then hit 'Search' button.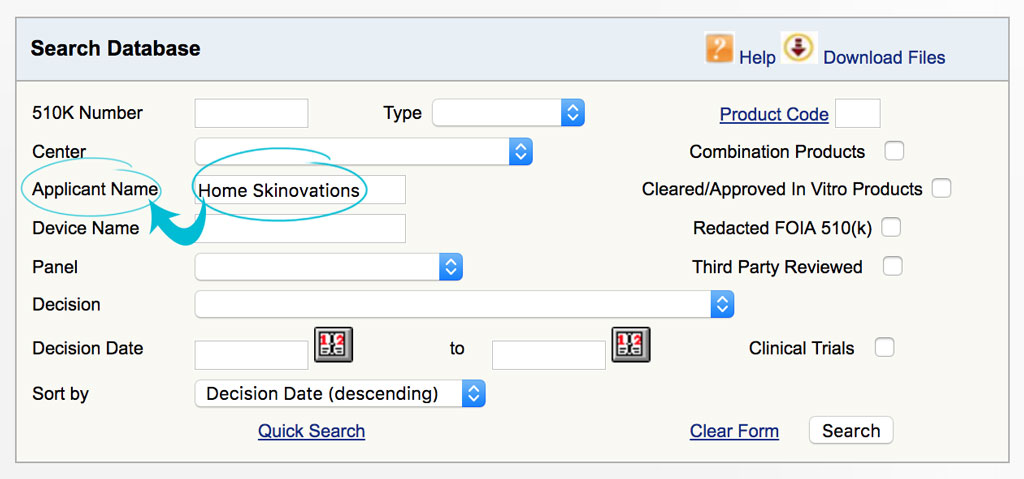 Step 3: Look for the device from the search results.
As you can see, Silk'n Flash&Go appeared in the search results. Next, click the link to see the FDA decision.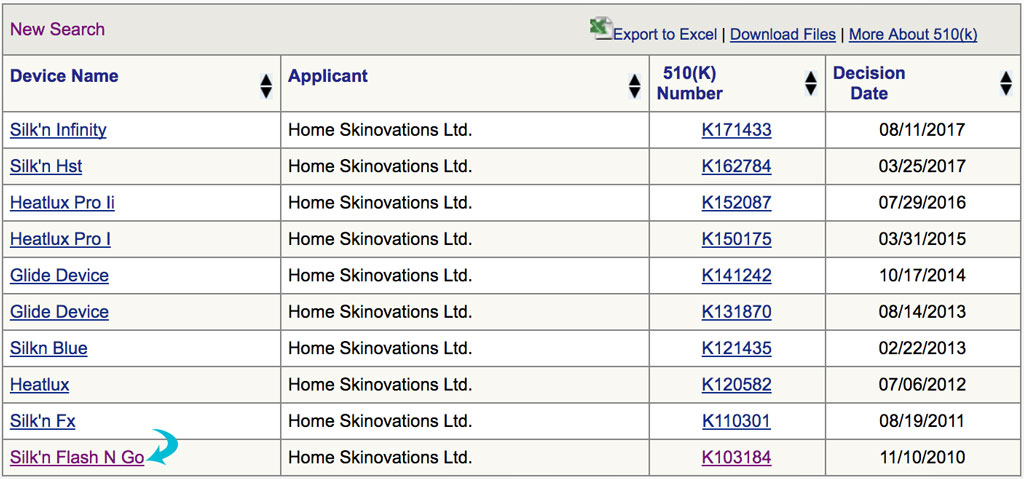 When you click on the link it will bring you to the following screen, and on it, it shows that Silk'n Flash&Go was FDA cleared in 2010, with a 'Substantially Equivalent' decision.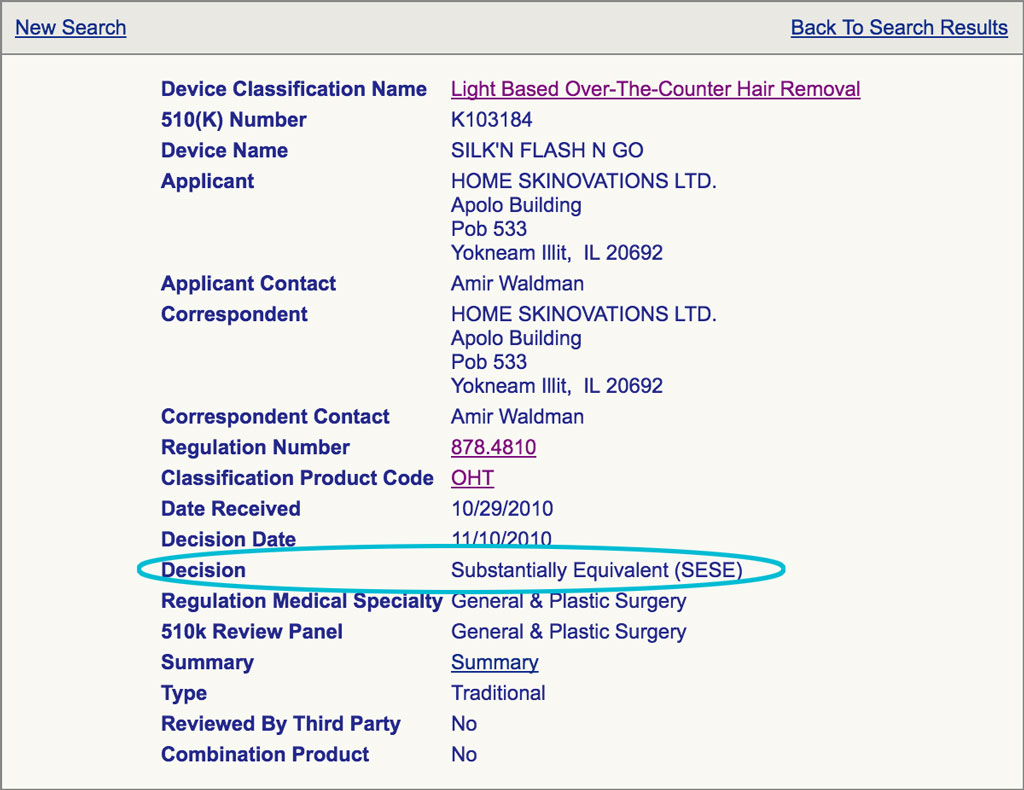 You can further investigate the submitted paperwork to check the clinical data by clicking the 'Summary' link.
The Complete List of All FDA Cleared Light-Based Hair Removal for Home Use
(Light-based pertains to both laser and IPL hair removal)
In European regions, the question of whether an IPL device is FDA cleared or not isn't really the main concern, since FDA is a federal agency in the United States. The only thing that people in the Europe need to look for is the presence of the 'CE' Marking in the product. A European manufacturer has to undergo a process before they can affix the CE Marking on their products.
With the CE Marking, it means that the product has met the requirements of the European health, safety, and environmental protection agencies, and can be marketed in the European Economic Area or EEA. As for the Asian brands, they each use a combination of both FDA and CE.
Without further ado, here are the latest IPL and laser hair removal devices for home use:
Summary Table of FDA Cleared At-Home IPL Hair Removal
Developer
Brand
Device Name
Technology
FDA Cleared
Check Price
Home Innovations Ltd.
Silk'n
Flash&Go
SensEpil
Bellalite
Glide
HPL
Yes

Best Price

Tria Beauty, Inc.
Tria
Tria Laser 4X
Tria Precision
Laser
Yes

Best Price

Shaser
Remington
Remington iLight Pro (IPL6000)
Remington iLight Pro Plus Quartz (IPL6000PQ)
Remington iLight Ultra Face and Body (IPL6500QFB)
Remington iLight Pro (IPL6250)
Remington iLight Essential (IPL6500)
Remington iLight Prestige (IPL6750)
Remington iLight Prestige 2017 (IPL6780)
IPL
Yes

Best Price

Shaser
LumaRx
LumaRx
LumaRx Pro
LumaRx Mini
IPL
Yes

Best Price

Cyden Ltd.
SmoothSkin
SmoothSkin Gold
SmoothSkin Bare
IPL
Yes

Best Price

Cyden Ltd.
Braun
Silk-Expert 5 BD 5001
Silk-Expert 5 BD 5008
Silk-Expert 5 BD 5009
IPL
Yes

Best Price

Shenzhen CosBeauty Co., Ltd.
Cosbeauty
Perfect Smooth Joy Version
Perfect Smooth
IPL
Yes

Best Price

Syneron Medical Ltd.
Iluminage Beauty
Iluminage Touch
Precise Touch
IPL+RF
Yes

Best Price

Syneron Medical Ltd.
Elos Me
Elos Me Touch Advance
Elos Me Super Touch
Elos Me Super Soft
Elos Me Soft Advance
Me Classic
Me Sleek
Me Smooth
Chic (mini version)
IPL+RF
Yes

Best Price

Shenzhen GSD Tech Co., Ltd.
DEESS
DEESS iLight 2
DEESS iLight 3
IPL
Unknown

Best Price

Philips
Philips
Lumea Essential (BRI863/00)
Lumea Prestige (BRI950/00)
Lumea Prestige (BRI953/00)
Lumea Prestige (BRI956/00)
IPL
No

Best Price

Home Innovations Ltd.
Veet
Infini'Silk
Infini'Silk Pro
HPL

Best Price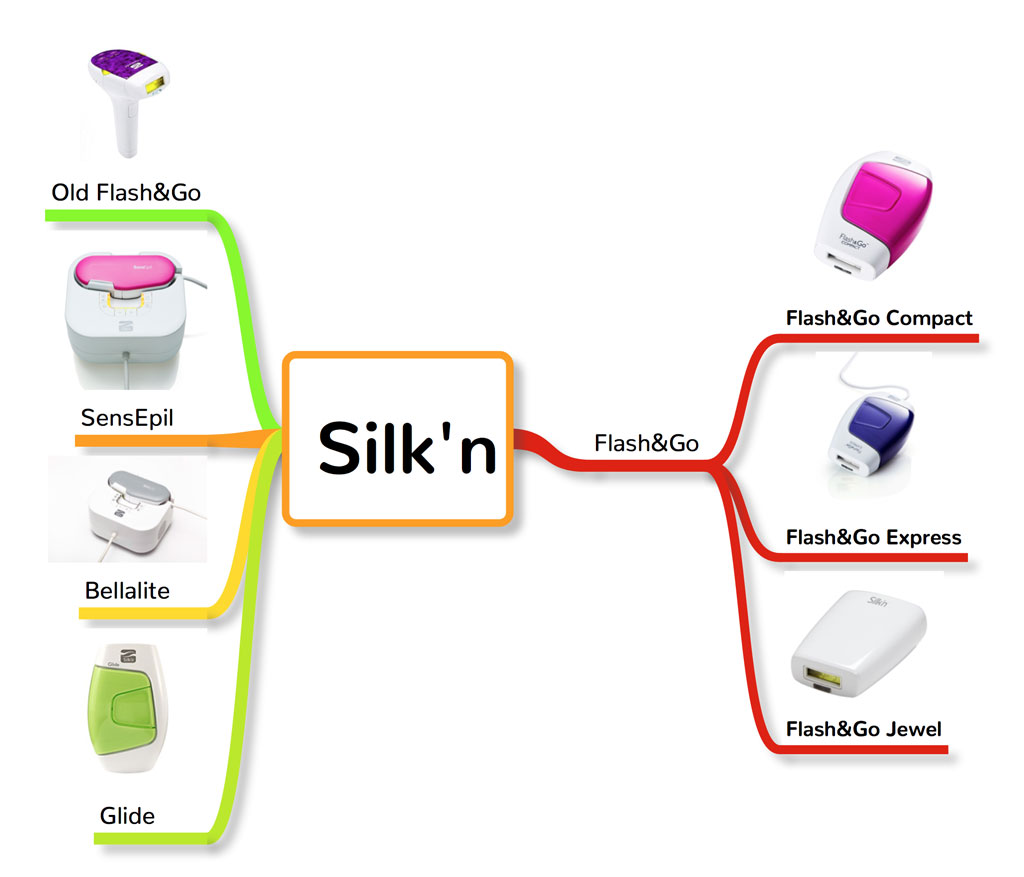 FDA cleared: Yes
Home Skinovations Ltd. is the company behind the brand Silk'n, which was the first at-home IPL hair removal system to be FDA-cleared back in 2008. The company was founded in 2006 in Yokneam, Israel and is currently a leading developer of aesthetic and cosmetic devices which focus on anti-aging and hair removal treatments.
Their flagship product for light-based hair removal system is Silk'n, which uses their patented Home Pulsed Light (HPL); a type of IPL technology specifically designed for a safe home use. Currently, Silk'n's light-based hair removal products are being marketed throughout the region of North America, Europe, Asia and Australia.
Silk'n has several HPL devices being marketed, depending on the region. Their current list of devices consists of:
Flash&Go (Compact, Express, and Jewel)
SensEpil
Bellalite
Glide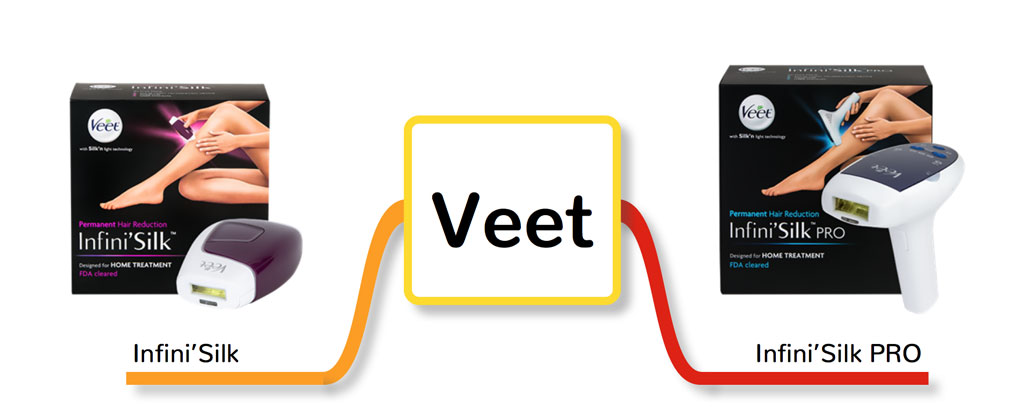 FDA cleared: Yes
Another company who acquired the Home Pulsed Light technology from Home Skinovations Ltd is Veet. In 2014, Veet released two versions of home IPL, which are Infini'Silk and Infini'Silk Pro. In fact, the Pro version looks exactly like the old gun-shaped version of Silk'n Flash&Go. The question of which of these brands delivers better results is a little like asking a pair of identical twins which is the better looking of the two because both have the same specs and features.
And, unlike Bosidin IPL, Flash&Go and Infini'Silk have each published complete information about their product specifications, which are available on their respective websites. Even their clinical data is accessible to the public. So in short, no matter your decision between the two, you are essentially buying the exact same device, just branded differently.
Veet has two HPL devices available in the market:
Infini'Silk
Infini'Silk Pro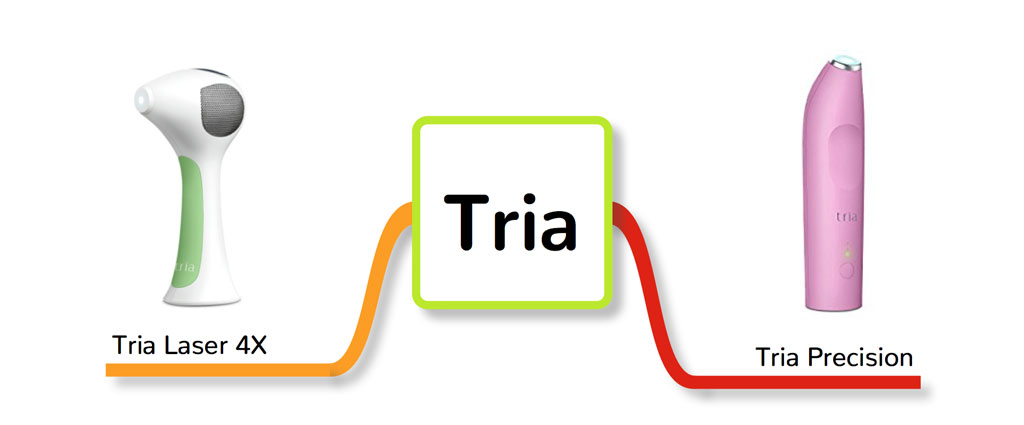 FDA cleared: Yes
Out of all the home light-based hair removal here, Tria Laser 4X is the only device that uses diode laser technology. There's a big difference between the mechanisms of an IPL device and a laser device when it comes to hair removal treatment.
The Tria Laser 4X is the most powerful home light-based hair removal device, with a fluence level of up to 20 J/cm2. This is very high compared to other IPL devices, which have an average of 9 J/cm2 fluence. However, a fluence level this high means that every zap during the treatment is likely to be painful compared to the other of IPL devices. Given the mechanism of a laser, it's more effective in giving permanent hair reduction result. But due to Tria's very small treatment spot size, it is only recommended for use on smaller areas such as a female's upper lip, underarms and bikini areas.
Tria has two home diode laser hair removal systems:
Tria Laser 4x
Tria Laser Precision (mini version)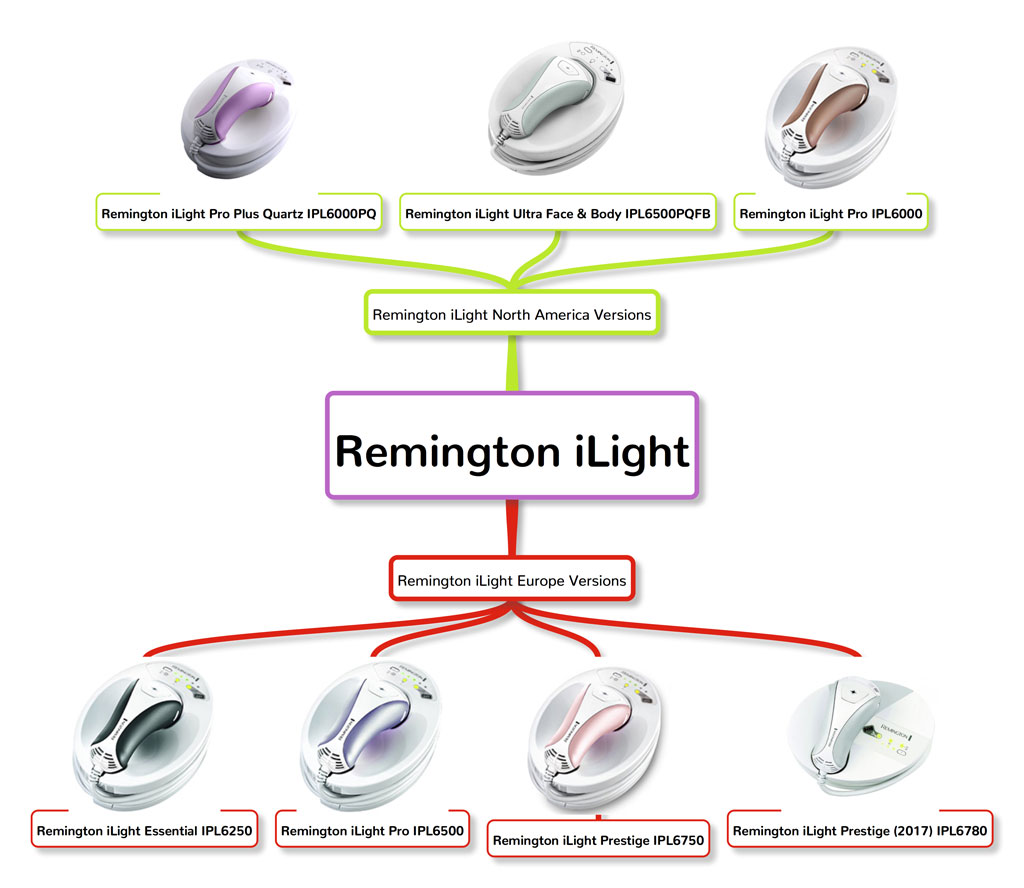 Remington has released many different versions of their iLight device and is one of the most popular home IPL brands in the United States. I actually wrote an article dedicated to the Remington iLight, which you can read here.
The developer of Remington iLight is Shaser Bioscience, which was later bought by Spectrum Brands. Silk'n has its patented Home Pulse Technology, so to set themselves apart, Remington iLight utilizes ProPulse technology. ProPulse technology is used by some professional IPL equipment and allows the intense pulsed light to penetrate deep into the hair follicles without increasing the wavelength output. This leads to a safer but still effective hair reduction treatment. Currently, there are more than 6 versions of Remington iLight in US and Europe market.
Here are Remington iLight device in the North American market:
Remington iLight Pro Plus Quartz (IPL6000PQ)
European Market
Remington iLight Pro (IPL6250)
Remington iLight Essential (IPL6500)
Remington iLight Prestige (IPL6750)
Remington iLight Prestige 2017 (IPL6780)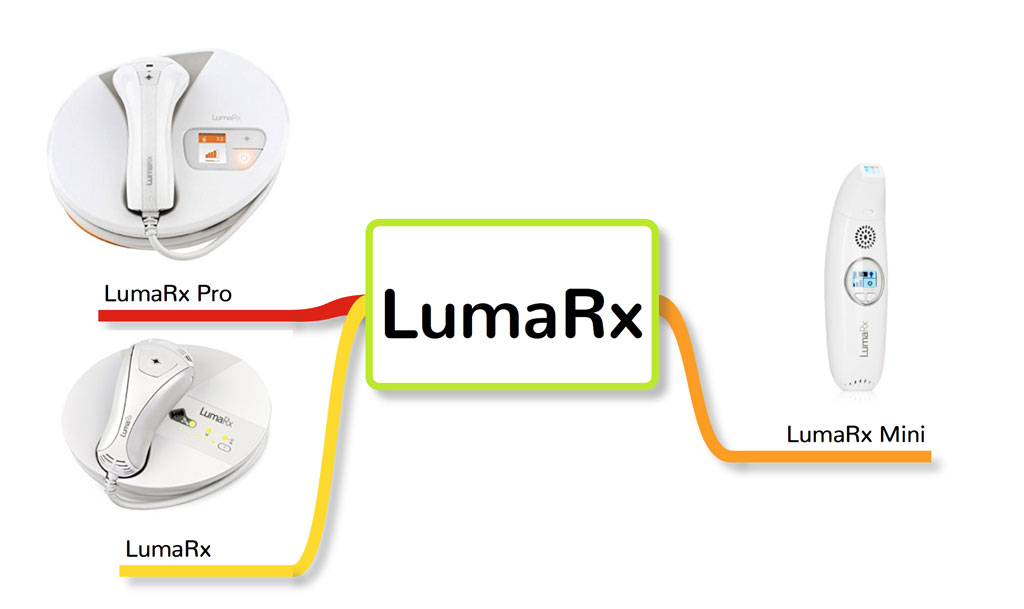 FDA cleared: Yes
LumaRx was developed by the same company that developed Remington iLight, Spectrum Brands. It's unclear whether LumaRx is using the ProPulse technology that is present in all Remington iLight devices. LumaRx used the Remington iLight clinical data when they submitted their IPL for FDA clearance, which could mean that both iLight and LumaRx have the same features and specification like fluence or energy level (J/cm2).
There is one distinguishing feature present in the LumaRx device that Remington iLight doesn't have, which is the ComfortFilter technology. This technology blocks harmful ultraviolet (UV) light and infrared energy from the light and heat being emitted by the device. This could possibly make the LumaRx IPL system the safest IPL device for long-term use.
LumaRx has three IPL hair removal systems:
LumaRx Pro
LumaRx
LumaRx Mini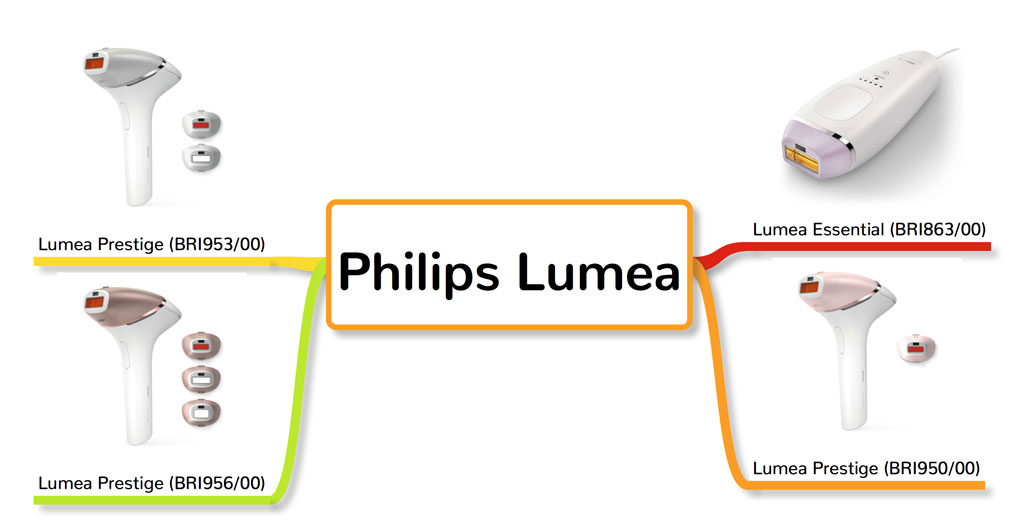 CE Marking: Yes
Philips offers several light-based hair removal devices under the name, Lumea, which are more popular in Europe than in the US. In the UK, there are over 30 versions of Lumea IPL, but as of 2017, only 4 of them are still in the market; the rest is either discontinued or phased out. All of these devices deliver the same hair reduction results. But, if you are interested in learning more about the differences of these UK versions, read my upcoming post about the differences between each of the Lumea IPL models.
Meanwhile, in the US, there's only one version available — the Lumea Comfort. Lumea Comfort however is not FDA cleared. So it's still unclear how Philips was able to market this device in the US in the past. So for now, the availability of Lumea Comfort in the US is highly limited.
Philips has four home IPL hair removal models available in Europe and UK:
Lumea Essential (BRI863/00)
Lumea Prestige (BRI950/00)
Lumea Prestige (BRI953/00)
Lumea Prestige (BRI956/00)

FDA cleared: Yes
SmoothSkin IPL was developed by Cyden Ltd. and was the first-ever home light-based hair removal that was released on the UK market in 2009. During that time, the device was called Cyden iPulse IPL and was later renamed to SmoothSkin. SmoothSkin IPL was only being sold in their UK partner retailer called Boots, and since then, gained popularity among European women. As a result, Cyden released a newer version called SmoothSkin Gold, which is being sold internationally. The device was finally FDA-cleared in 2016, and now being enjoyed by a few American users. A group of dermatologist did a clinical trial of all IPL device in 2009, and the result was that only SmoothSkin passed the safe and effective specification for a home-use light-based hair removal device, even outperforming the Tria Laser 4X. [insert reference here].
SmoothSkin has two home IPL devices:
SmoothSkin Gold
SmoothSkin Bare (mini version)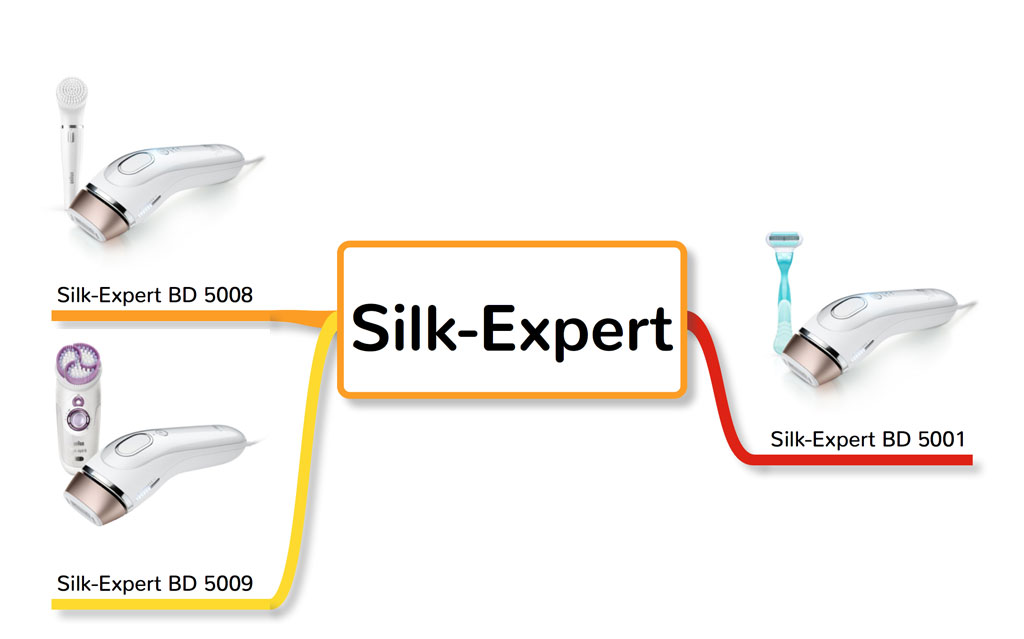 FDA cleared: Yes
Braun is a German manufacturing company and subsidiary of Procter&Gamble and is well known for manufacturing health and wellness devices, such as shaving and grooming, hair care, and many other products. Recently, Braun and Procter&Gamble entered the light-based hair removal device market by partnering with Cyden Ltd. As a result, Silk-Expert 5 IPL was born and is mainly being marketed in the Europe, UK, and Australia.
In the US and Canada, Braun partnered with Gillette Venus to market the device. However, it is branded as Silk-Expert IPL without the '5'. Silk-Expert IPL was released in the market in early 2016 but was just recently FDA-cleared in April 2017. Learn more about each Silk-Expert IPL special edition version here.
Silk-Expert IPL comes in three special edition:
Silk-Expert BD 5001
Silk-Expert BD 5008
Silk-Expert BD 5009

FDA cleared: Yes
Cosbeauty Perfect Smooth was just recently cleared by FDA around March 2017. This device is the newest addition to the light-based device market, manufactured in China by the Shenzhen CosBeauty company. Aside from China, it was first marketed in Japan and became very popular among Japanese women before it reached the US, UK, Europe, and Australian markets.
Cosbeauty has two IPL devices available:
Perfect Smooth Joy Version
Perfect Smooth

FDA cleared: Unknown
DEESS iLight is another light-based device originating in China and is manufactured by Shenzhen GSD Tech. Shenzhen GSD Tech is also the manufacturers of professional diode laser hair removal machines. The efficacy of the DEESS home IPL, however, is unknown due to lack of clinical data and product information available online.
DEESS claims that their device is FDA cleared, but the data from the FDA database was pertaining to a different IPL device called GSD IPL. The FDA clearance was also in 2009, while the first DEESS iLight was released in 2010. This means that although DEESS and GSD IPL devices were manufactured by the same company, it doesn't mean they are the same device. FDA requires that you apply for another clearance for a device, even if simply releasing a newer version.
DEESS iLight has only two versions available in the market:
DEESS iLight 2
DEESS iLight 3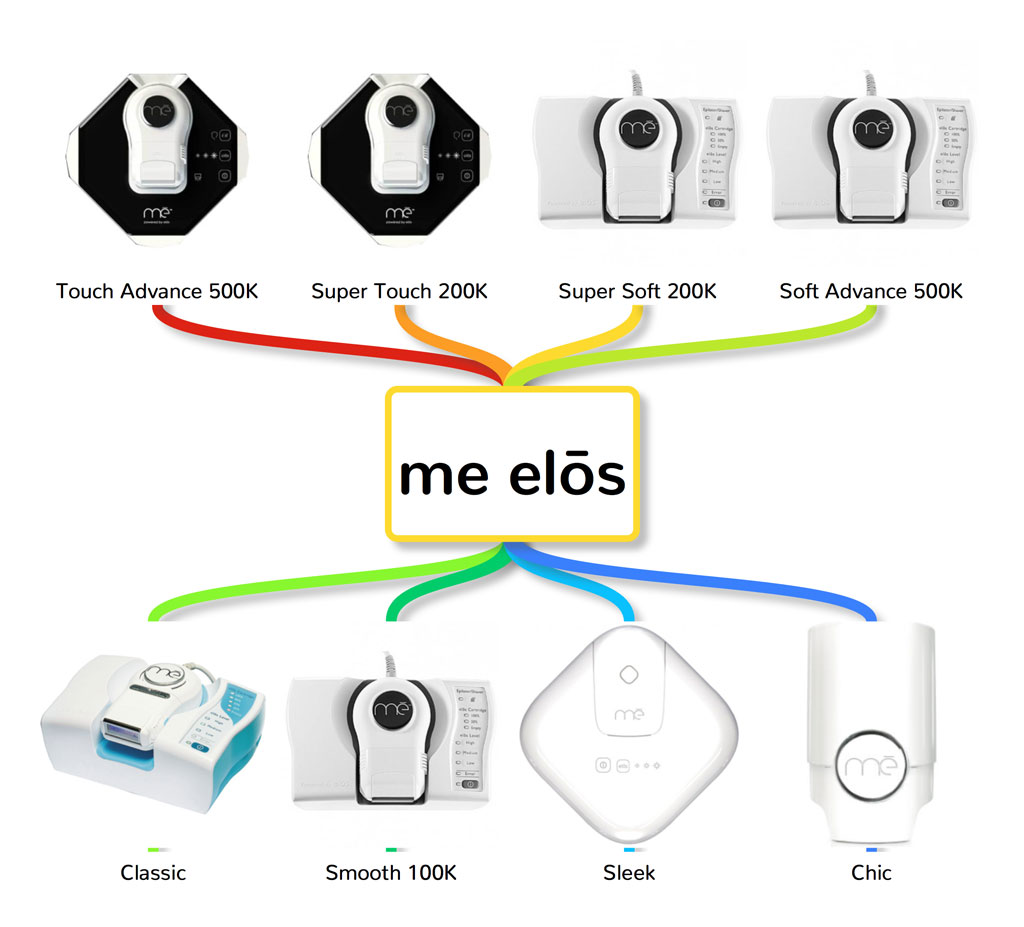 FDA cleared: Yes
Elos Me was the main distributor of Iluminage Beauty and Syneron's nonsurgical medical devices. Syneron developed me Smooth which is the first FDA cleared home IPL device with elos technology that is safe and effective for darker skin tones. Elos technology is a combination of IPL and radio frequency (RF) energy.
Unlike IPL, RF is not attracted to dark pigments or melanin which makes the device safe for use on darker-skinned people. To market the device, Syneron partnered with Unilever Ventures, together they created Iluminage Beauty Inc. which now markets iluminage Touch and other Elos Me IPL devices. Since then, they have been releasing different versions every year, with iluminage Touch as their most popular IPL device.
iluminage touch has two IPL devices:
Iluminage Touch
Iluminage Precise Touch (mini version)
While these are the Me Smooth devices:
Elos Me Touch Advance
Elos Me Super Touch
Elos Me Super Soft
Elos Me Soft Advance
Me Classic
Me Sleek
Me Smooth
Chic (mini version)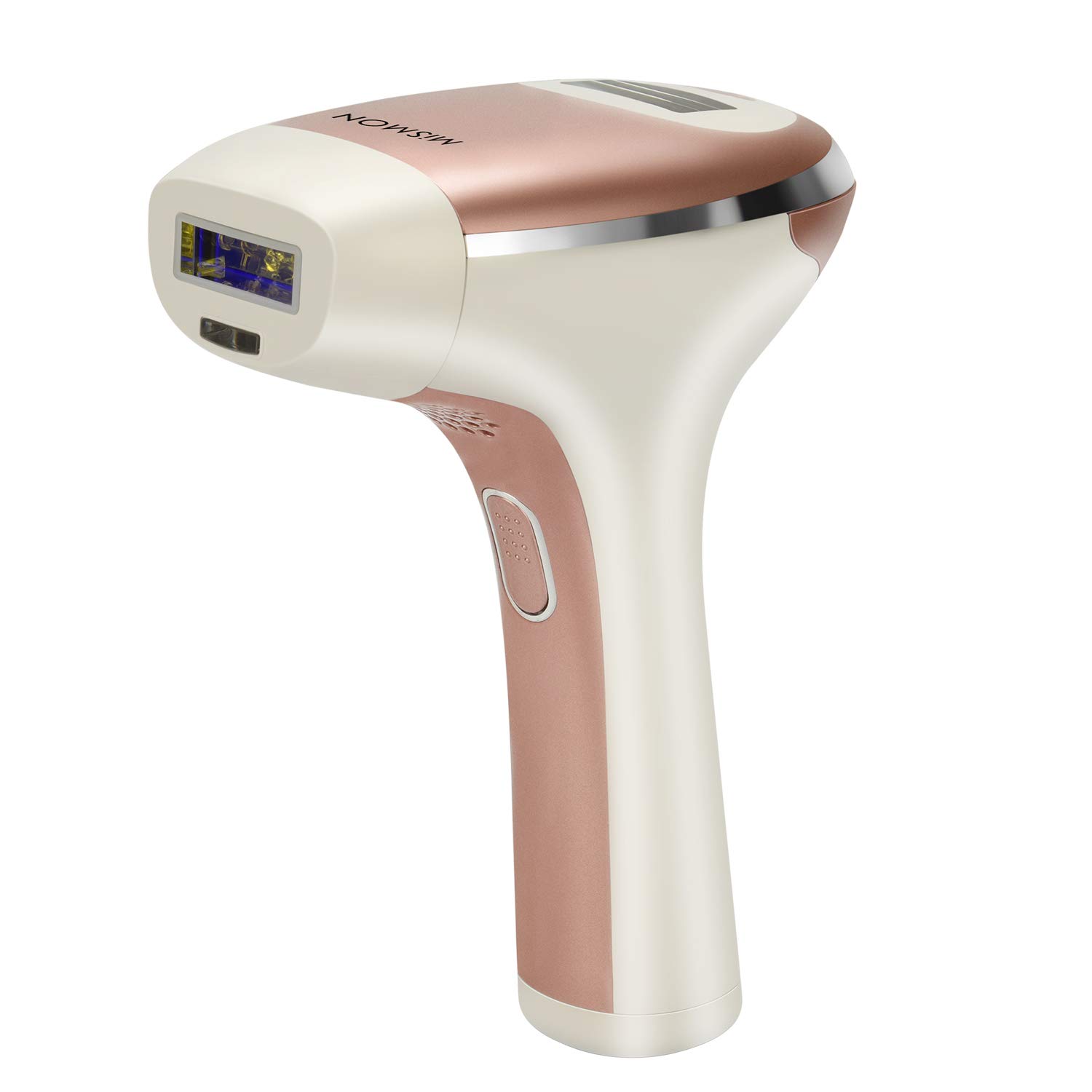 MiSMON IPL is a brand new IPL hair removal device for home use released by
Shenzhen Mismon Technology Co., Ltd., a manufacturing company in China. The MiSMON IPL hair removal device received its FDA clearance on March 20, 2018.