Investing in a permanent laser hair removal device is one of the best ways to stop the endless loop of plucking, shaving and waxing every few days. And the good news is — there are many options available to DIY at home. All you have to do is choose the best one for your specific needs, and you can expect smoother skin in no time.
However, a reality check is in order — these instruments can be pricey. But they definitely don't have to be! Cheap at home IPL devices are a great entry into the world of at home laser hair removal.
The following list of devices was handpicked based on our personal experience, and they are relatively cheap — especially compared with the higher-priced alternative of a professional treatment.
What is the best affordable IPL device on the market?
We concluded that the best cheap at home laser hair removal is the Philips Lumea Prestige IPL Hair Removal System. Well worth the investment because of the results and high-quality build. If we had to recommend any other cheaper IPL device, it would be the me Smooth.
These are the Best Inexpensive At Home Laser Hair Removal Devices on the market.
And while we are all about saving a dollar where we can, it's also equally important for us to achieve our anticipated outcome. And it's important to keep in mind that not every device on the market was created equal. While some promise excellent results, that doesn't always translate into a permanent reduction in hair regrowth.
These are the Best Cheap IPL Devices on the market
When it comes to cheap IPL devices, in a market as saturated as it is, users shouldn't have to sacrifice results to get an affordable product.
So to make things easy on you, we went out and bought these devices, and reviewed our 7 favorites in this guide. Each one should provide long-term, stable reduction in the volume of hair on the treated area that can last for months.
Personally, when first time IPL device users come to me for recommendations, I recommend one of two systems. First up, the Philips Lumea.
Philips Lumea Prestige IPL Hair Removal System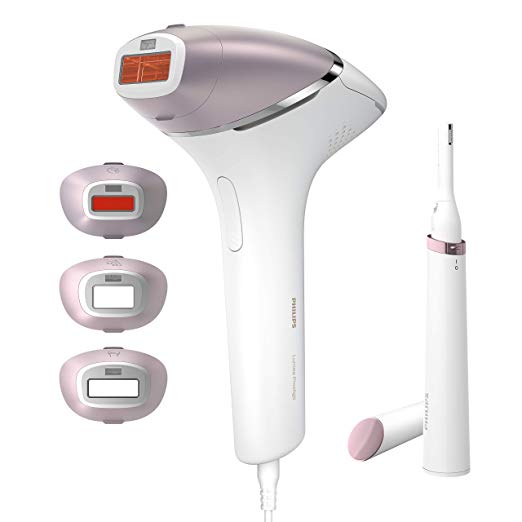 The design of the Philips Lumea gives it a wide range of capabilities. It only comes in one color (basic white), and is shaped like an alien gun, with a 3-centimeter square window with a handle. This design makes it very easy to maneuver, particularly on the underarms and bikini areas, as well as wider parts of the body, including the arms or legs. This product is suitable for use on both the face and body.
The Philips Lumea uses Intense Pulsed Light (IPL) technology, which means that it utilizes light pulses at different wavelengths to target the dark pigments at the base of the hair follicle. The light pulses generate heat that damages the follicle, causing the hair to shed after a week or two.
At the same time, the device also inhibits regrowth. Because it's corded, this is a versatile device that you can use at any time without having to wait for the batteries to recharge. Unlike other products that are currently on the market, this device does not come with replaceable parts, so your investment will only cover the initial upfront expense.
What We Like:
Easy to maneuver
No replacement parts needed
Relatively affordable
Durable
No need to recharge batteries
5 adjustable settings
Safety features including skin sensor and UV filter
What We Don't Like:
Lack of accessible clinical evidence
Corded – less convenient
Silk'n Flash&Go
Silk'n Flash&Go is an at-home solution for convenient, permanent hair removal. This unit is extremely easy to use — just plug it in, then wait for a few seconds as it warms up. When the indicator light flashes, press the device against the skin and pull its trigger. The device will automatically check the skin tone to make sure that it is not too dark before the treatment begins.
Users can see a pulse of light emanating as the device does its job. You may not feel anything, but depending on the setting you choose, you may feel a little snap-like sensation. Once you've finished, just lift the unit from your skin and move it to another area. The Silk'n Flash&Go is lightweight, simple and to the point, making it quick and easy to complete your hair removal treatment. It's definitely a superior option to shaving. It is also far cheaper than going to a professional laser hair removal session at a clinic while still delivering similar results.
What We Like:
Very easy to use
Fast treatments
Suitable for use on the face
Reduces hair regrowth
Little to minimal pain
What We Don't Like:
Some users complain about a slight burning smell
May cause discomfort during treatment
Veet® Infini'Silk™ Pro Permanent Hair Reduction
There are so many IPL products currently on the market, but you might still be waiting for one that offers high quality at a price that won't break the bank. The Veet® Infini'Silk™ Pro Permanent Hair Reduction may be exactly that device. This hair removal device comes with built-in skin tone and skin contact sensors, along with 5 different energy settings.
According to several customer reviews, this device truly delivers on its promise. Users have reported a marked reduction in the density of body hair, as well as minimal regrowth after continuous use for a two-month period. However, bear in mind that this device is not suited for people with dark skin tones. If you're looking for a laser hair removal device for dark skin, check out that section of our website. You should also avoid using this device if you have surgical implants, diabetes or cancer. On the other hand, this device works well for people with fair skin and dark hair. As long as you follow the directions included in the user manual, you can expect positive results from this product.
What We Like:
Affordable alternative to more expensive laser light hair removal
Lightweight and less tiring on the hands
FDA approved
Safety precaution device pulse every 3 seconds
Replaceable bulb
Great value for the money
What We Don't Like:
Replacement bulbs are expensive
Does not work on tanned or dark skin
Need to shave prior to using the device
The head of this device is small, which means that the treatment may take longer
Remington iLIGHT Pro IPL6000
Remington is a well-known brand in the personal care market. It has an established reputation for producing reliable, high-quality products. One of the most attractive features of this device is, of course, the price, but it also comes with capabilities that allow you to obtain your desired results.
This is an FDA-approved device for home hair removal that employs IPL technology that has been clinically proven to reduce hair growth and regrowth. The IPL technology is very similar to the type used by licensed dermatologists, which means that this product is capable of delivering quality results.
What also sets this product apart from similar models is that it does not need to be recharged, but rather comes with a power cord. If you are working on smaller surface areas, such as your underarms, this is not burdensome at all. The improved design of the Remington iLIGHT Pro IPL6000USA also makes it very easy to use, and its fast flash rate lets you complete the treatment in half the time. For example, you can treat your bikini line and underarms in under 20 minutes.
What We Like:
Gentle on the skin, fast treatments
No need to recharge
Safe to use (FDA approved)
Long power cord
Requires fewer sessions
What We Don't Like:
Cartridge replacement cost
Does not work on all skin tones
Me Smooth Permanent Hair Reduction System
The Me Smooth Permanent Hair Reduction System has been recognized as the very first at-home hair removal machine that uses patented ELOS technology.
The manufacturer claims that this product is safe and effective for use on all skin types. Traditional hair removal devices typically use strong light pulses to remove hair without damaging the surrounding area. Unfortunately, these devices are only designed for use on people with lighter skin. As a result, they may cause skin discoloration for people who have dark skin tones.
What makes the Me Smooth Permanent Hair Reduction System different is that it uses radio waves in addition to light pulses. The addition of radio waves allows the device to use lower levels of light pulses, thus reducing the potential risks of discoloration on dark skin tones.
This is a pretty small device that can fit comfortably in the palm of your hand, and is very easy to use. All you need to do is turn it on, choose a setting and press the activation button. Once applied to your skin, it automatically starts to emit light pulses, serving as an indicator that it is working. It also comes with a sensing device. Most users reported that they did not feel pain during the treatment process, even when using the highest setting. The morning after, there were no reports of swelling, redness or itching.
What We Like:
Easy to use
Long power cord
Clinically proven results
Affordable
FDA approved
What We Don't Like:
Limited range
Not suitable for darker skin tones
Silk'n SensEpil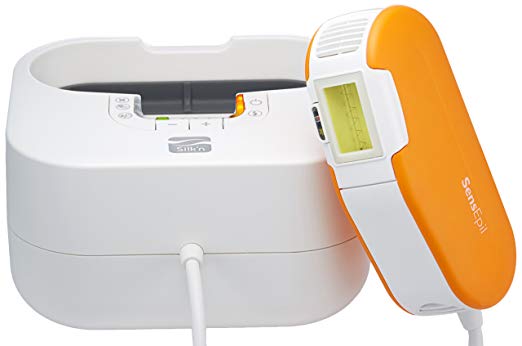 Silk'n SensEpil is an at-home IPL hair removal device that comes in a sizeable base unit that holds the applicator. The applicator is easy to use, and applies light to the skin surface. This device is perfect for wider treatment areas, though the cartridge only comes with a lifespan of 1,500 flashes.
After that, it needs to be replaced. It comes with useful features, including a safety sensor. Rather than using a skin trigger, the device uses a skin type sensor that inhibits people who have skin type that is darker than Tone IV on the Fitzpatrick Scale from utilizing the product.
Aside from the safety features, which have been improved compared to its earlier sibling, the Silk'n SensEpil is also smaller, flatter and comes in a pink color. Its large rectangular head allows you to complete the treatment in less time. There are 5 settings that you can choose from, depending on your comfort level on the particular area that you're working on. It also comes with a long power cord which allows you to easily reach any body part, twisting and turning the device as needed.
What We Like:
Well-built, solid device
Perfect for wide treatment areas
Affordable
Strong safety features
5 strength settings
Easy to use
May be used even on smaller areas
Comes with clear instructions/DVD
What We Don't Like:
Slik'n Flash&Go Compact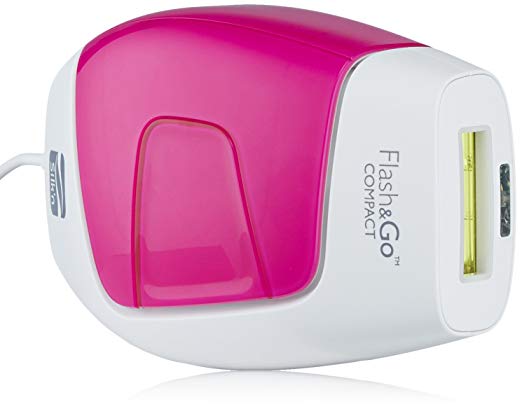 The Slik'n Glide 150,000 is a hair removal device that you can use at home. It uses IPL technology to reach deeper down into the skin and target the roots of the hair, where it disables the base of the follicle to make sure the hair does not grow back.
It uses a pulse trigger that allows the user to treat individual areas, especially when using higher energy settings. As its name suggests, the product is equipped with 150,000 light pulses, meaning there is virtually no need to refill the cartridge. And according to clinical trials, the process is both safe and comfortable.
This device may safely be used on different areas of the body, and can be used by both men and women. It offers a cost-effective, relatively painless and permanent solution to hair removal. The treatments are quick, targeting the entire body in just 30 minutes. The glide and pulse settings are perfect for both body and facial hair. It also comes with a 2-year warranty.
What We Like:
Fast treatment sessions
Patented HPL technology
FDA approved
Suitable for some dark complexions and tanned skin
For both men and women
Claims up to 50% hair reduction in 3-5 treatments
What We Don't Like:
A little heat sting on higher settings
Final Verdict: Top 3 Picks
While there several great options that meet our requirements for a good-quality permanent laser hair removal device under $200, there are three devices in particular that really stand out. Our top-three ranking is based on the quality of hair reduction, device features and value for the money.
1. Philips Lumea My Pick
The Philips Lumea IPL permanent laser hair removal device is well-suited for individuals with light to medium skin tones, as well as brown, dark blond or black hair. Treatment time may vary depending on the area you're targeting. As reported on the product's official website, this device has been proven to be both safe and effective.
According to the manufacturer, clinical studies have shown that on the lower legs, there is about 75% hair reduction after 4 bi-weekly treatments. With its overall ease of use, affordability, durability, safety and convenience, the Philips Lumea IPL is undoubtedly a top option.
2. Remington iLight Pro Runner-Up
The Remington iLight Pro is a promising permanent laser hair removal device. The manufacturer has upgraded its features to deliver top-quality results in less time. For instance, it comes with a fast flash rate that allows you to complete your treatments in half the time. It works in a similar manner to the laser hair removal treatments practiced in professional clinics, but can treat a wide range of hair colors and skin tones.
However, bear in mind that it is specifically designed for use on skin tones ranging from ivory to light brown, and is not recommended for darker-toned skin. Overall, the Remington iLight Pro made it the top three because it is safe for home use, uses FDA-approved technology to target hair follicles and won't break the bank.
The Silk'n Flash&Go permanent laser hair removal device has been recommended by many users. With its amazing features and a price point to beat, this is a great option.
It utilizes highly sophisticated technology to safely and effectively reduce hair growth. It works well for both men and women, and is suitable for use on the entire body, even the face and other sensitive areas. Its 72-inch cord length allows you to move around freely while doing your treatment.
However, note that this product is not suitable for skin that has recently tanned, or if you have black or Afro-Caribbean skin tones. It is also not advisable for use on those with grey, blonde or white hair. The Silk'n Flash&Go hair removal system is definitely a superior at-home solution for all problem areas, leaving you with smooth and silky skin. But bear in mind that in order to achieve the desired results, a series of treatments should be completed.
Did we help you find an affordable IPL device?
At home laser hair removal is a relatively new concept for many of us. The fact is, with the amount of devices on the market, and with the invention of IPL and ELOS technology, achieving salon like results with at home IPL devices is entirely possible. We wrote an entire article talking at home IPL tips, but if you start slow and be patient with your treatment, you can be highly successful in removing unwanted hair on just about every place on your body.