If you're desperate to find a reliable way to finally free yourself from unwanted facial and body hair, but are on a tight budget, then an at-home hair removal device may be a safe and effective alternative. These days, you can easily find several great options out there.
And one of those options is the mē Smooth Permanent Hair Reduction Device.
This is a stand-out product, as the only at-home hair removal device that's FDA approved to use patented ELOS technology. ELOS Technology simultaneously combines the power of bi-polar radio frequency (RF) and optical energy and is proven to be safe and effective for use on all skin types. It also works for various hair colors, including red and blonde hair.
If you're in a hurry, you can click here to see the current price. Otherwise, keep reading through this guide which covers everything you need to know about the device.
What Are The Main Features?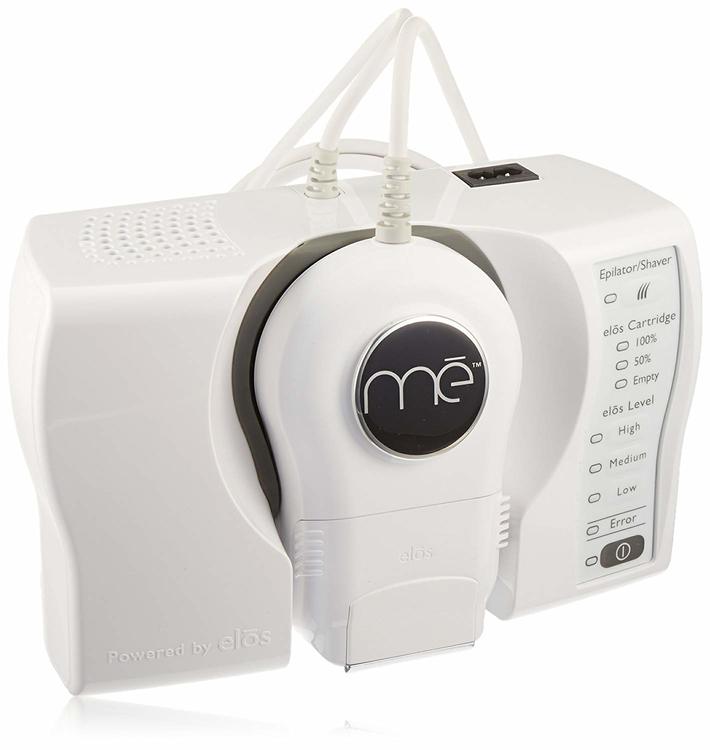 Light Pulses plus Radio Waves
Other hair removal devices use strong light pulses to remove unwanted hair without damaging the skin surrounding the treated area. Unfortunately, these devices only work for individuals who have light skin and may cause discoloration for those with darker skin tones. The me Smooth Permanent Hair Reduction Device combines light pulses with radio waves to allow for lower levels of light pulses, which reduces the danger of discoloration for those with darker skin tones.
The me Smooth Permanent Hair Reduction Device uses a specific type of light at a certain frequency. It has the capability to burn the hair roots below the surface of the skin. As a device that uses ELOS technology, it can go even deeper beneath the skin surface, making it more effective than devices that only use IPL technology.
Other Features and Specifications:
The me Smooth Permanent Hair Reduction Device is FDA approved and clinically proven to be safe and effective for all skin types. It's gentle and easy to use, taking just a few minutes to complete a treatment.
This device is designed with safety and comfort in mind. But if you have any questions regarding the use of this product, you may also contact the company's customer service department, which is great for first-time users who are unfamiliar with hair removal devices.
Product Features Include:
Number of flashes: 6,000
Replacement cartridge: Yes – needed
Cord or cordless: Corded
Does it have a warranty or money-back guarantee: 1-year warranty from date of the original purchase
Is it FDA Cleared: Yes
This product promises up to 94% hair reduction in just 7 weeks, and users report an average of 46% hair reduction after just 2 weeks.
What Body Parts Can the Mē Smooth Permanent Hair Reduction Device be Used On?
One of the best things about this device is how versatile it can be. You can use it on the following body parts:
Arm

Underarm

Bikini area

Leg

Face

Shoulders

Abdomen

Chest and back
Who Are Good Candidates?
The me Smooth Permanent Hair Reduction Device is designed for people of any skin type, thanks to its ELOS technology that uses both Intense Pulsed Light (IPL) and Radio Frequency (RF).
However, this product is not advised for use by people with light-induced seizures, epilepsy or chronic migraines. It is also not recommended for individuals who are using an incontinence device, pacemaker, insulin pump or similar medical devices.
There are a few other points that are important to bear in mind. For instance, never use the product on the nipples, ears or other intimate areas. For men, avoid using this product on your jaw, face or neck, which may result in skin injury. Most importantly, this product is not advised for those under 18 years old.
How Can I Achieve The Best Results?
Prepare the area to be treated by shaving, wiping clean and drying.

For those with facial hair, wax or epilate before treatment in order to achieve the best results.

Turn the power button on.

Choose the ELOS energy level. You can start on low first, then move up to the higher levels when you become more comfortable with the device.

Remove the applicator from its base. Next, press the activation button situated at the back of the applicator.
It is recommended to use the Mē Hair Removal Device once per week for 7 treatments over the first 6 weeks. After these first 6 weeks, you should perform monthly maintenance treatments.
For the face, it is recommended to use the device every 1-2 weeks (Source).
What Customers Are Saying:
Several users were highly satisfied with the me Smooth Permanent Hair Reduction Device, reporting that it's very easy to use. Customers with darker skin tones were particularly happy with the fact that it can be used on all skin types. Another popular feature is the ability to reach the manufacturer through a customer service hotline, especially since the device employs a new technology that is not used by other at-home hair removal devices. The representatives were reported to be helpful and knowledgeable about the product.
On the other hand, there was also some negative feedback. For example, some reported that this device wasn't the best for removing stubborn hair or tackling hormone-related hair growth. Some also said that it took a long time to see the desired results. However, this was not an issue for the majority of users, as long as they carefully followed the instructions included in the user manual.
Conclusion
Overall, the me Smooth Permanent Hair Reduction Device is quite a promising product. But it's important to remember that this machine does not remove all your hair — rather, what it promises is hair reduction. ELOS technology, which combines Intense Pulsed Light with Radio Frequency, makes it possible to treat different skin types and hair colors.