I am typically nitpicky when it comes to buying stuff which meant that I heavily scrutinize everything first like checking all of the features of the product and weighing the pros and cons before I make the decision to buy.
So after I compared all FDA-cleared light-based hair removal device for home use, I ended up getting the Remington iLight Ultra Face & Body, an IPL device developed by Spectrum Brands Spectrum Brands.
Editors note: while the Remington iLight used to be my top favorite in home IPL device, after doing a Braun IPL Review, I've since started to recommend the Braun Silk series, specifically the Braun Silk Expert 5 for it's affordability and effectiveness.
Remington iLight Ultra Review
The decision to make a purchase was therefore committed for reasons that:
it offers great compatibility with my skin tone,
it has the highest fluence energy level of 8 j/cm2, and
it is the most cost-effective of all at-home Intense Pulsed Light (IPL) product available in the market today.
With a wavelength between 600 to 1200 nm, the Remington iLight Ultra offers longer wavelength than its predecessor models which were set at 550 to 1100 nm.
Subsequently, it also meant that it offers a significantly more effective treatment on the skin while retaining the safety of use.
Popular
Remington iLight
This is an effective IPL hair removal system that produces results in just three treatments. It's also FDA cleared and has 65,000 flashes.
Check Latest Amazon Price
We may earn a commission if you click this link and make a purchase at no additional cost to you.
Pros
Now, let us take a look at the product's significant characteristics:
✅ It is FDA cleared. As a pioneering hair removal product, the Remington iLight Ultra is among the first of its kind to get clearance from the FDA for consumer use.  Here is a list of other FDA approved hair removal devices as well..
✅ Large spot treatment size of 3 cm2. This means Remington iLight Ultra can quickly cover an underarm with only 10-12 pulses which substantially covers a larger area of the skin when compared to Tria Laser 4x which only has 0.88 cm2 spot size and needs 100 pulses per underarm.
Consequently, Remington iLight Ultra saves me a great deal of time tending for my cosmetic needs and, thus, more time for my baby.
✅ It comes with a facial attachment. Not many IPL devices can work on the face. But the Remington iLight Ultra Can be safely be used on the upper lip, cheek, neck, chin, and even sideburns.
✅ Replaceable cartridge. When pulses run out, you just have to buy the replacement cartridge. The replaceable cartridge compatible with the iLight Ultra is the Quartz Bulb SP6SB with 65,000 flashes.
✅ It has a Quartz bulb. This means iLight Ultra is sturdier and less prone to burn out than older IPL versions that only uses glass bulbs.
✅ Pain is a 3.5/5. Pain is a part of the process. Just like plucking hairs in the skin from the root, the Remington iLight Ultra is no exception. Although painful, I considered this an advantage because this means that the device is working on targeting hair follicle.
Cons
However, despite all the positives which the product entails, the Remington iLight Ultra is not perfect. As such, it harbors the following downsides as a product:
👝 It is bulky. Remington iLight Ultra is a two-piece device where the handpiece is attached to a base unit. It has a dimension of about 8 x 8 x 8 inches. Personally, I find the product's overall size to be a problem, especially when mobile.
When I went on a 2-month vacation, having it inside makes the bag feels heavy to carry, not to mention risking it for damage. As a result, I skipped treatments which led to unwanted hair growth.
🏾 Slow result for my brown skin. I have a thick coarse hair in my underarm as a person with a Fitzpatrick Skin Type IV. Although I was not expecting an immediate reaction from this product on the first few tries, I did not expect the effect to only become noticeable after the fifth try.
Apparently, people with darker hair and fair skin (Fitzpatrick Skin Type I, II, and III) respond better to any light-based treatment and may achieve a more favorable result. Do note that it doesn't work on grey hair.
My Typical Treatment Routine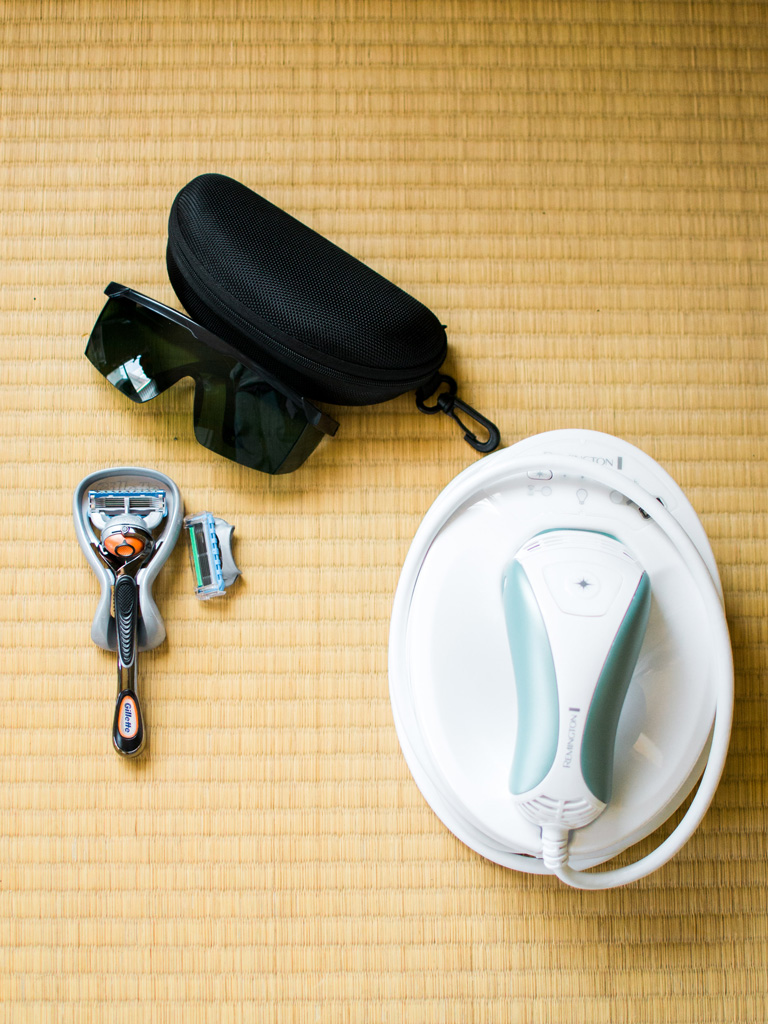 Shave as close as possible.
Treat at energy level 5, press the handpiece firmly on the skin.
Clean the flash cap.
Store the device properly.
Wait until the hair grows on active phase or anagen phase, at least 1-2 weeks.
Then Repeat. Be consistent. Shave as close as possible.
Actual Before and After Photos
I forgot to take a picture of my underarm hair before I started the treatment. But, you'll be thankful because it's just embarrassing and unpleasant. My right underarm has more hair than my left, probably due to my right-handedness.
1st Treatment Session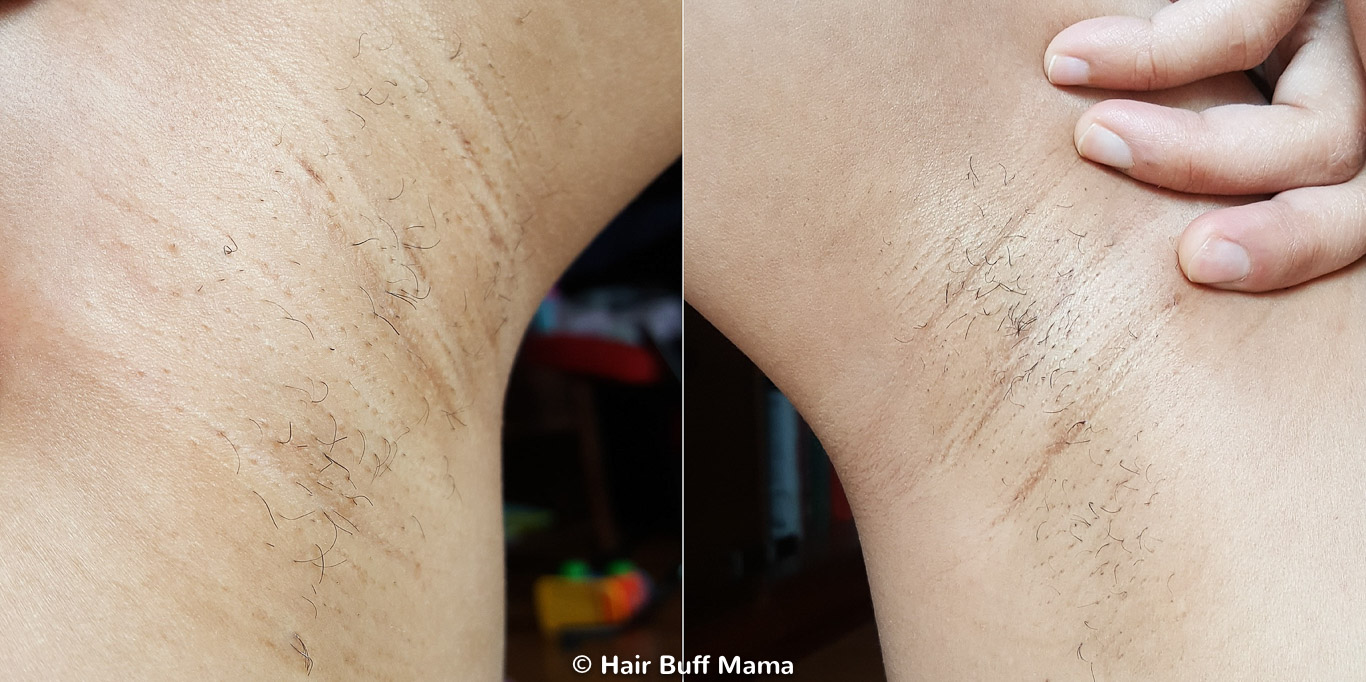 Since I have more hair in my right underarm, I used a higher energy level on my first treatment. One week after the first treatment, I can already see that the Remington iLight Ultra IPL has slowed the hair growth of some hair follicles on my left underarm compared to my right underarm.
2nd Treatment Session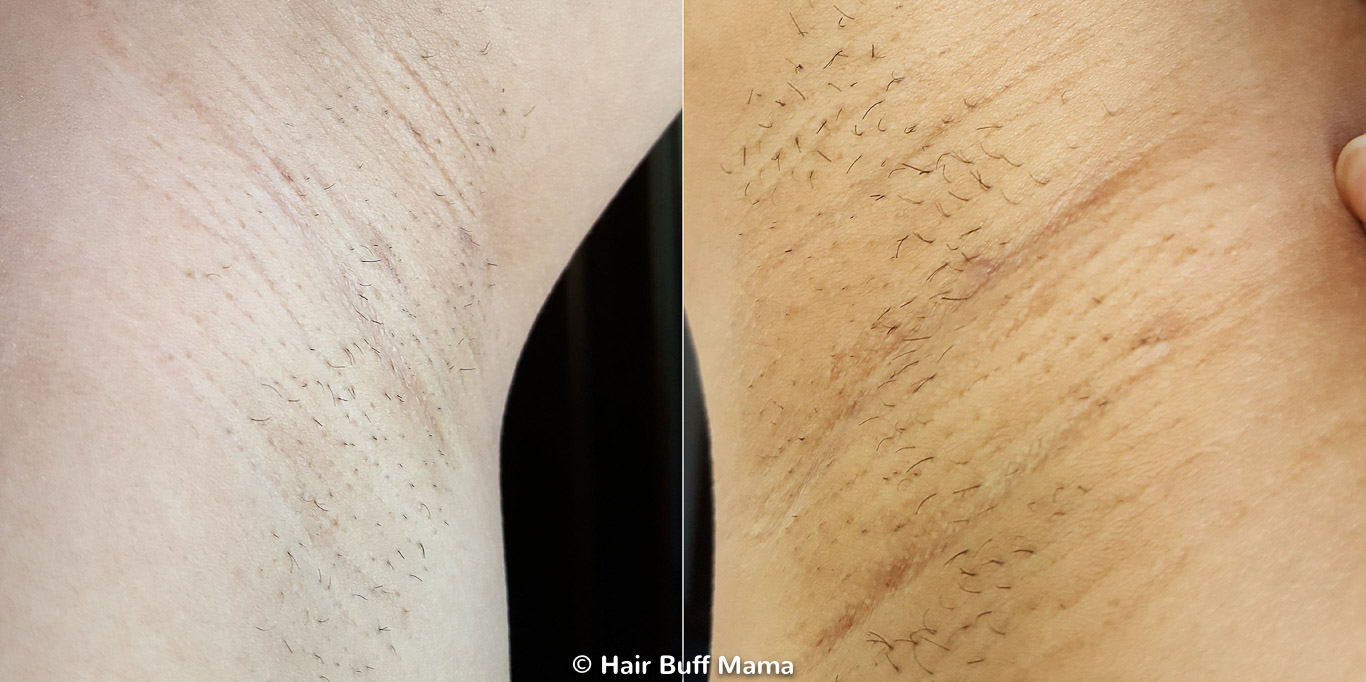 Unfortunately, due to a sudden 2-week trip to the U.S., treatment was only resumed 49 days later which goes against Remington's recommendation to repeat treatment after 1 or 2 weeks.
This time, I decided to increase the energy level to 5 on both sides. The pain was 3.5/5 and each pulse always startles me. I felt a warmer sensation, and I could smell burnt hair.
At level 5 energy, there are times that I could not get myself to press the flash button. I will count one, two, three, pause, then, flash. Ouch.
Obviously, the 2nd treatment didn't give much favorable result except slowed down the hair growth.
I can say that for each underarm, it only takes a 3-5 minute to treat which is very convenient and way faster than I used to when I was still using a wax.
I am also glad that at energy level 5 given my Fitzpatrick Skin Type, I haven't experienced any adverse reactions like redness or blotching. After 3-5 days, I notice some hair fell off.
3rd Treatment Session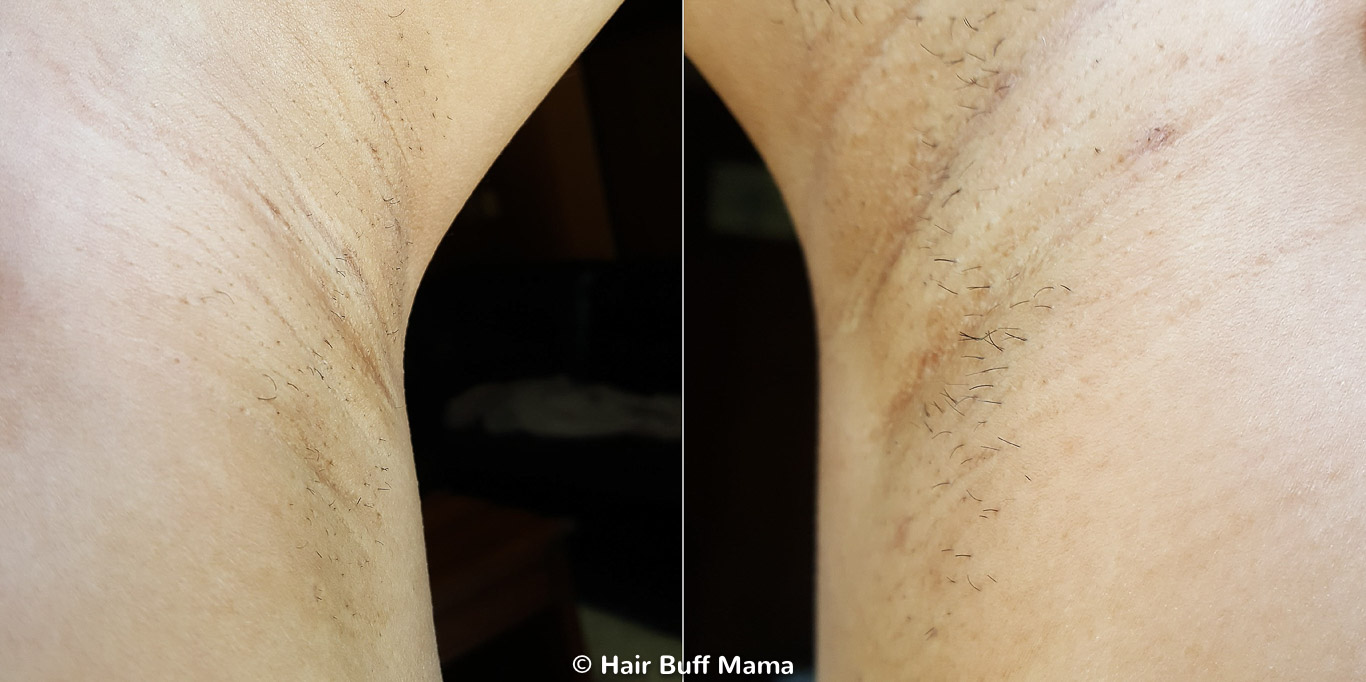 I repeated the treatment one week after the 2nd treatment. This time, I was happy to see a favorable result. I saw a drastic change on my left than the right underarm. Still no adverse reactions.
I never plucked or waxed between treatments. I just shave. No ingrown hair. But that's because I exfoliate my underarms every day with my favorite Korean scrub.
4th Treatment Session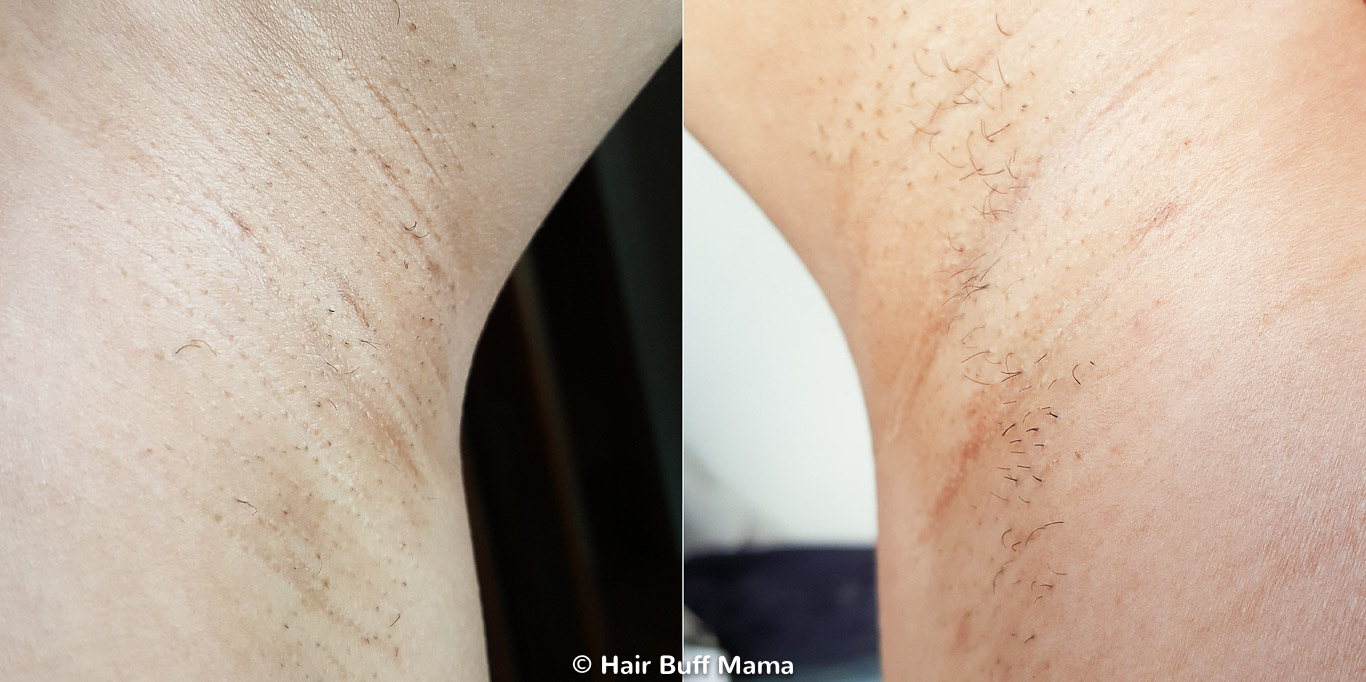 My left underarm showed an even more positive result! Decreased hair and slower hair growth. I am not sure what is happening on my right underarm, but I guess it's because their growth in that area is just different.
One thing I have also done was I pressed the handpiece firmly on my skin and I think it made the pulses more effective against targeting the hair follicle.
5th Treatment Session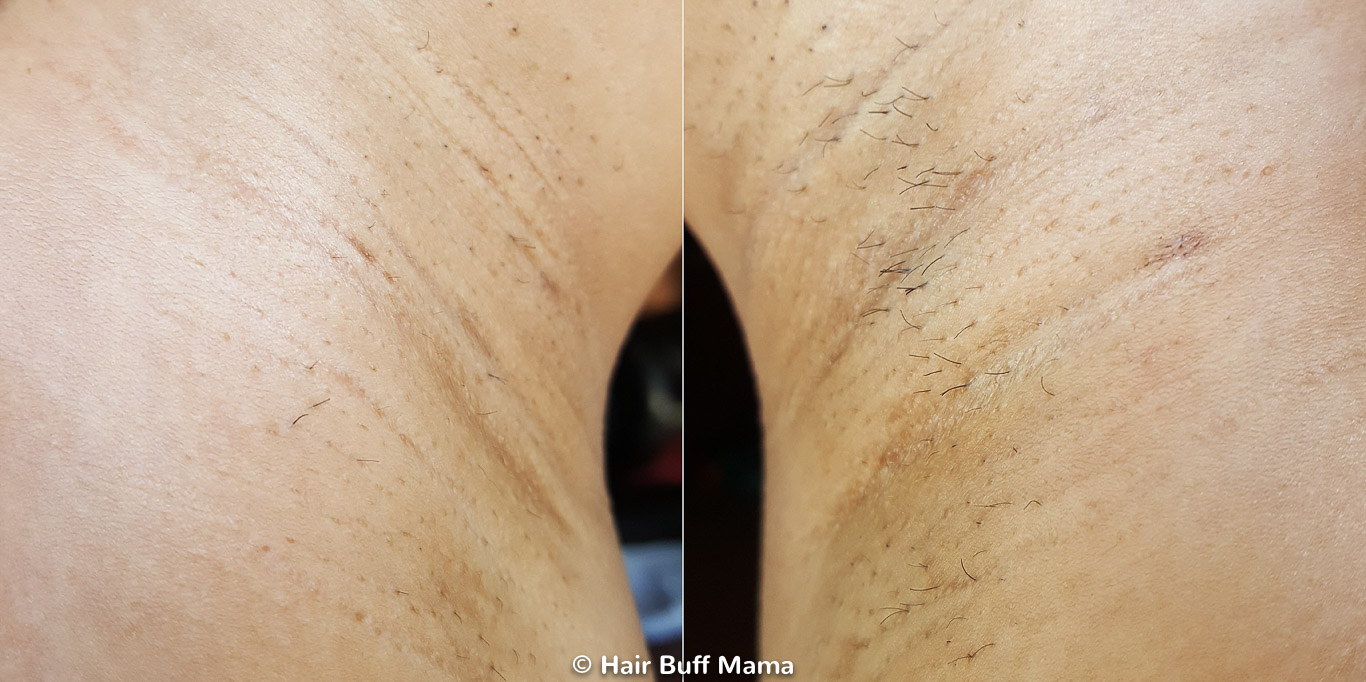 Almost hair free two weeks after the 5th treatment and it stayed like that for a month! I am still not sure what is happening with my right underarm, it didn't give any huge difference. But it definitely works. I am guessing the hair follicle on my right underarm is deeper.
Popular
Remington iLight
This is an effective IPL hair removal system that produces results in just three treatments. It's also FDA cleared and has 65,000 flashes.
Check Latest Amazon Price
We may earn a commission if you click this link and make a purchase at no additional cost to you.
Similar:  Me Smooth IPL Review 
Verdict
Did Remington iLight Ultra Face & Body really work?
YES.

It REALLY works.
Despite my Asian skin, this product did well and didn't give me any adverse reaction.
It delivered incredible results on my left underarm.
But the treatment session must be consistent.
There are several factors that affect the result of an IPL device.
In my case, my right underarm does not respond well to the treatment. I would assume that it has deeper hair roots and the light pulses won't penetrate deeper.
The only thing I can do is be consistent with the treatment and get the shave as close as possible on that side.
I am still treating both underarms. I only treat as soon as I notice a new hair growth on the area. I will shave it and immediately do the treatment.
All things considered, however, I truly believe that the Remington iLight Ultra makes for a great alternative to expensive laser and IPL treatments usually rendered at the clinic or the spa. It's one of the best at home laser hair removal devices available to the public, for a relatively low investment.