The iluminage Touch Permanent Hair Reduction System is an FDA-approved, at-home device designed to provide permanent results for different skin tones. It uses advanced ELOS technology that combines IPL (Intense Pulsed Light) with RF (Radio Frequency) energies in order to ensure permanent, clinically proven hair reduction. 
Iluminage Touch IPL Over + What You Should Know
As with every hair removal product I review, I purchased this and used it on my own skin. The results? Despite some of the negative reviews I've found online, pretty amazing. I'm actually quite surprised that the Illuminage Touch IPL doesn't get more attention from those in the beauty community. Now, with that being said, it does come with a price tag and that could be a major reason why we do not invest in the product.
When we do a deep dive, like we're doing with this Iluminage touch review, we buy it and try it first. Of course, you can only buy and try so many devices before you run out of hair. Recently, I had to enlist the help of a few of my friends, but alas, we were able to formulate a recommendation on whether or not the Iluminage touch is worth the money.
Is the Iluminage touch worth the money?
This is one of the more expensive IPL devices out there. If you take a look at our Silkn Sensepil Review, you'll find that that device is much cheaper than this, and delivers the same if not better results. I'll be honest, the main downside of the Iluminage touch IPL device is that it's on the expensive end, but it is highly effective.
Overall, though? I would say that the Illuminage Touch is very versatile and quite effective. If it's at the top of your list, I'd be comfortable saying this is well worth the investment.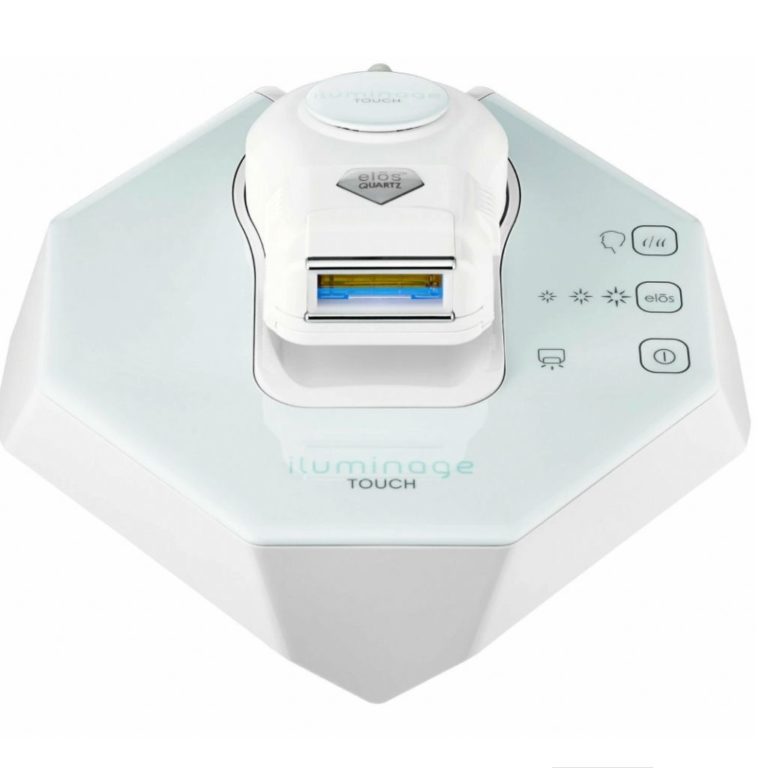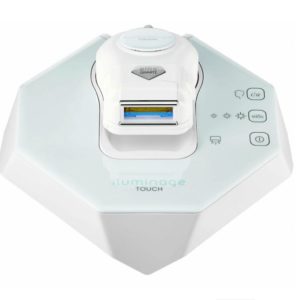 Two Main Features of the Product:
Clinically effective on all skin tones and hair colors
ELOS technology
Clinically Effective on All Skin Tones and Hair Colors
iluminage is proud to present the only permanent hair reduction system that has been cleared by the FDA when it comes to producing permanent hair reduction across every skin tones and hair colors. 
This hair reduction system can eliminate up to 94 percent of unwanted body hair in regions such as the face, the arms and legs, the underarm, and even that oh-so sensitive bikini area, and all without any pain.
Whether your hair is red, brown, or dark brown – colors typically difficult to remove effectively – the iluminage Touch can provide you with incredible results in just 3 months of recommended use.
ELOS Technology
This groundbreaking permanent hair removal product uses ELOS Technology, which combines Radio Frequency (RF) and Intense Pulsed Light (IPL) energies to penetrate the skin safely and target the hair follicle, heating it to levels that will inhibit hair growth.
This allows the illuminage Touch device to offer clinically proven, permanent hair reduction in as little as 7 weekly applications over just 6 weeks. This technology also offers unprecedented speed, safety and overall effectiveness to give users hair-free, smooth and beautiful skin.
However, before using the illuminate Touch's ELOS applicator, be sure to prepare and clean your skin thoroughly by removing any excess hair either by shaving, waxing or depilating. iluminage offers several optional accessories, such as the shaver and epilator cartridges,  to aid in preparing your skin for ELOS treatment.
How to use the Iluminage Touch Device
The Iluminage touch is actually one of the easiest to use at home IPL devices. Aside from plugging it in and adjust the ELOS energy level settings, there's nothing to it.
Adjusting the ELOS 3 Energy Level Settings
The iluminage Touch's ELOS applicator has three available energy level settings to choose from: Low, Medium, and High. Using the applicator on any energy level will leave you experiencing a subtle warming sensation as the RF and IPL energies penetrate your skin.
The Low setting is ideal for eliminating unwanted hair on the face along the jawline, while both the Medium and High settings are excellent choices for hair removal on the arms, legs, the underarm, or along the bikini line. While the iluminage Touch is safe to use, it is recommended to wear eye protection when using the ELOS applicator for the removal of unwanted facial hair.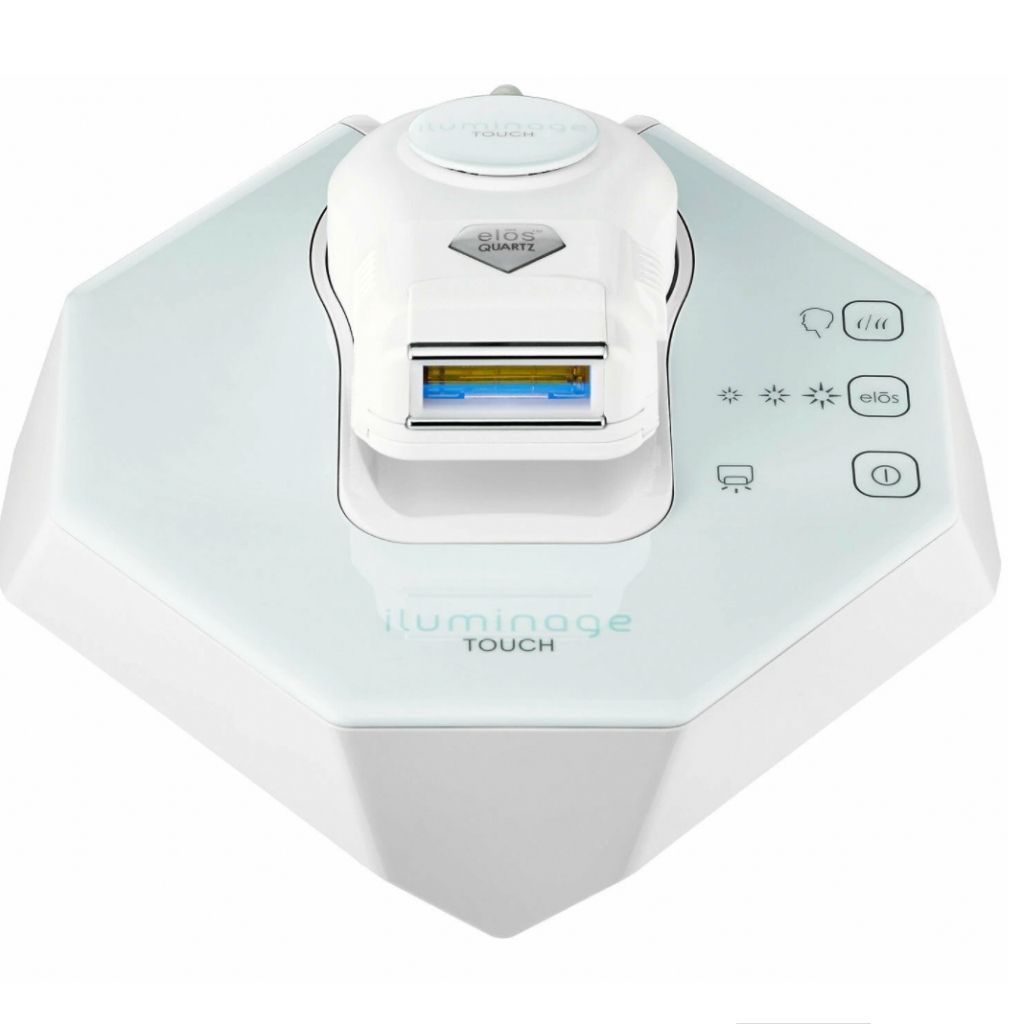 Similar: Mismon IPL Review 
Other Features and Specifications
This hair reduction system is known to be painless, safe and effective. This means that most users experience no snapping or stinging sensations during use or after using the product. It is also possible to use this product on different parts of the body, including the arms, legs, underarms, bikini area and even the face, all in just a few minutes.
According to clinical studies performed by the manufacturer, the iluminage Touch Permanent Hair Reduction System delivers a whopping 94% hair reduction in just 3 months of treatments. The results can be seen fast. This system can be used on specific areas once a week for a total of 7 complete treatments, as well as some periodic touch-up treatments as needed.
Number of flashes: 150,000 

Does it need replacement lamps or cartridge: Yes

Cord or cordless: Corded/Electrical

Does it have warranty or money back guarantee: 2-year guarantee

Is it FDA approved: Yes

Benefits: According to clinical studies, this system results in 94% hair reduction in just 3 months after completing one treatment series. 
Body Parts to use the iluminage on?
Who are Good Candidates for iluminage Touch Permanent Hair Reduction System IPL?
This product is proven to be safe and effective on all hair colors and skin tones, even the very darkest. 
However, it is not advised that people who have chronic migraines, light-induced seizures or epilepsy use this product. It is also not intended for use by individuals using incontinence devices, pacemakers, insulin pumps or similar medical devices.
Related: Veet Infini Silk IPL Review 
How to Use iluminage Touch for Best Results?
Prepare your skin by removing hair from the area to be treated, such as by waxing or shaving. Depilating or waxing is recommended for those with fair hair.

Turn on the device.

Choose the desired level setting (low, medium or high).

Slowly glide the device over the treatment area.
Customer Reviews or User Impressions
The manufacturer clearly states that this is not a permanent hair removal solution, but rather a permanent hair reduction system. Given that stipulation, the majority of users were impressed with the overall quality of this product. Many reported that this device is very easy to use and painless. 
However, some reviewers were not completely satisfied with this product due to certain drawbacks. For example, this device is more expensive than other, similar products. However, many users were nonetheless confident that the unit is well-worth the price due to its highly effective features.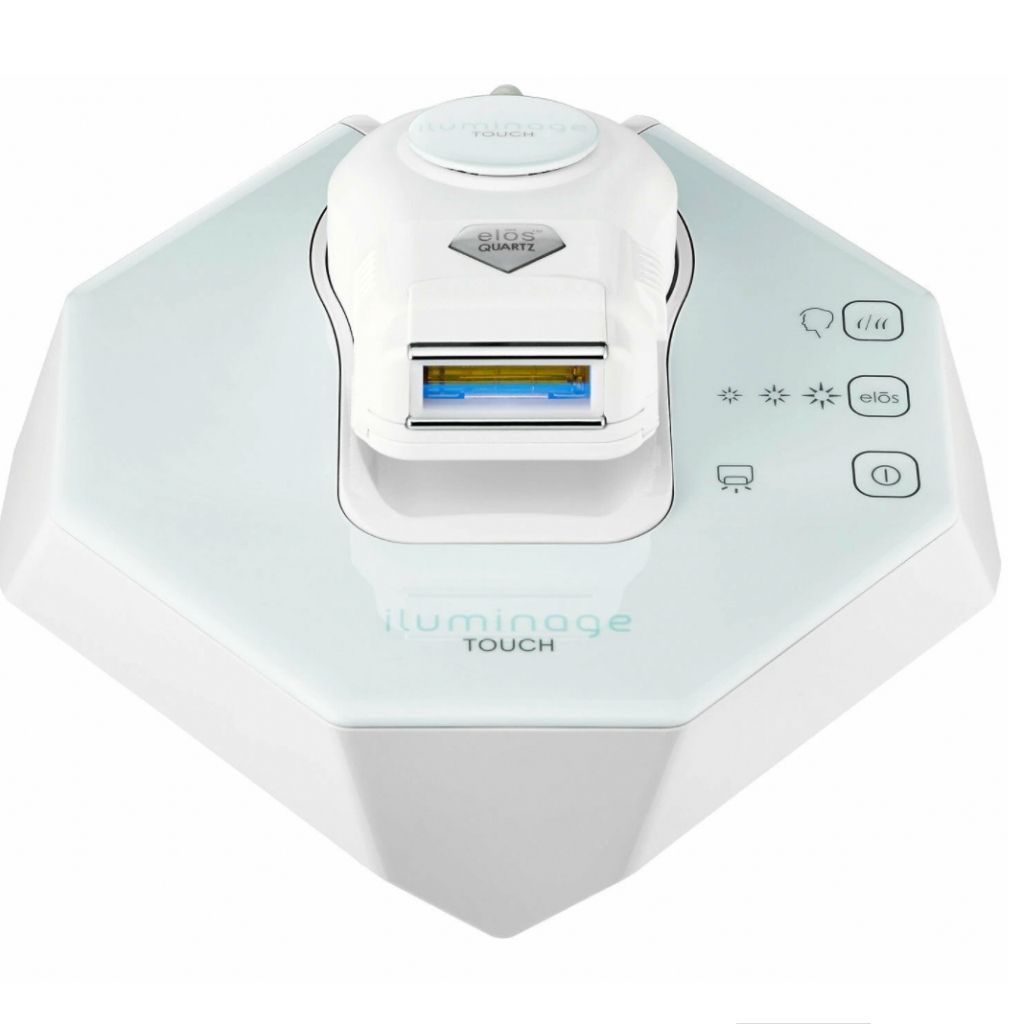 Conclusion
As these points have shown, the iluminage Touch Permanent Hair Reduction System is a safe, effective and painless device that's a great option if you're on the market for a good hair reduction system. It's important to bear in mind that this device falls on the expensive end of the pricing scale, but it comes with a strong reputation for providing superior results.
IPL Ruined My Skin? Is it possible that too much of a good thing can actually be bad? In the article I've linked up here, I've provided some valuable resources that should help you choose the right device for you. And to be clear, IPL didn't ruin my skin.